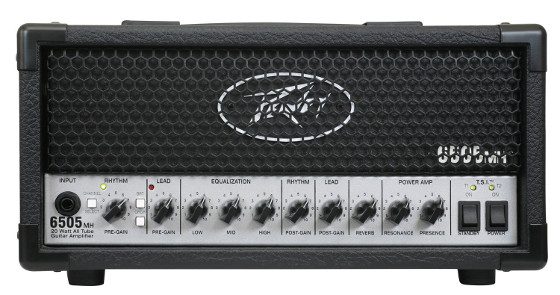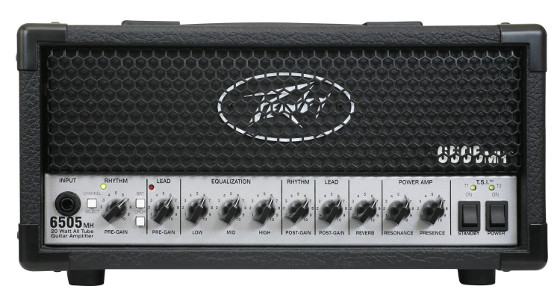 After posting an article with a list of mini amps last month, I ended up buying a Peavey 6505 MH, a 20 watt mini version of its high-watt counterpart.
I've been using it for a couple of weeks now so I thought I'd write down a first impressions review. There are some things I really like and some things I don't.
I'll post some sound examples and a video in follow-up reviews. For now I'm just going to list the main pros and cons.
Update: Here's part 2 of the review with a video demo, some sound examples, and the final verdict.
The are number of mini amps on the market these days that provide a good alternative to 100+ watt, super loud, 50 pound monsters.
I wanted something for high gain metal but with a usable clean channel as well so I ended up getting the Peavey 6505 MH.
It sells for $499 brand new and can be found used in the $350 range on eBay, so it's one of the more affordable options for a low watt tube head.
I paired my 6505 MH with a 2×12 cabinet that has Celestion V30s in it. I picked up a cheap tube screamer clone and a Zoom G1 multi-effects pedal for stuff like delay, chorus, EQ, and other effects. The tube screamer is definitely needed as a boost to tighten up the low end—the amp is pretty flabby without it.
The Good Stuff
Low Volume Sound – The Peavey 6505 MH sounds really good at lower volume levels, an important trait for a mini amp designed primarily for bedroom and home guitarists. In fact I like the distortion's tone better at lower volume than higher, which is kind of the opposite of what you'd expect from a tube amp.
Green Channel – The green channel has a wide range from glassy cleans (just turn down your guitar's volume a little for surprisingly good cleans) to high gain distortion. In some ways I like the boosted green channel better for power metal tones with the pre-gain turned all the way up—it's less harsh and noisy than the red channel—but then that takes away the clean channel.
Effects Loop – The effects loop is nice for adding stuff like delay and EQ and perhaps some effects like chorus and a flanger. Another cool thing with the effects loop is you can connect the amp directly to an audio interface and use impulse responses to simulate cabinets, which you can easily record into DAW software and add some drums and bass. Using the effects loop sounds much better than using the amp's built-in MSDI and USB output for recording.
Speaker Defeat – This is nice for being able to switch off the cab and still use the amp with headphones or when connected to a computer for recording in a DAW.
Footswitch – The included footswitch works well for switching between red and green channels, and for boosting the green channel. Alternately it can also be used for reverb and the effects loop.
Reverb – It has reverb built-in with an adjustable dial and it sounds decent.
Not So Good
Harsh Distortion – The only thing I don't like about the Peavey 6505 MH is the distortion has a harsh, brittle, speaker-crackling edge to it. The distortion sounds quite good at lower volume but the more you crank up the post gain the worse it sounds, especially on the red channel. I've heard that replacing the preamp tubes with JJ tubes can help smooth things out so I'm going to try replacing the stock Ruby tubes with JJ tubes (see this other article for more details after changing the preamp tubes).
Simulated Mics – The 6505 MH has a USB port and XLR port with simulated mics that you can use to connect to a computer to record. These are really cool features to have on an amp, but unfortunately the simulations just flat out don't sound very good at all. You're much better off using the effect loop to an audio interface with some software and an IR loader.
Low Watt Settings – I've tried the 5 and 1 watt settings in a variety of different ways and to me the 20 watt settings always sounds better. The low watt settings don't really matter anyway since the 20 watt setting sounds fine at low volume. Plus the amp seems to run hotter at the lower settings.
Shared EQ – Both channels share the same EQ settings so that limits your tonal options between channels.
Wrap-up (mmm bacon wraps)
After a bad experience trying a Line 6 Spider V amp (I should've known better), I decided a real tube amp would be a better option for practicing and jamming at home, or at least a mini tube amp, and that turned out to be a good choice.
For the most part I really like the Peavey 6505 MH. Like I said I'm not fond of the harsh distortion but I mostly practice at lower volume anyway, and I like the sound at lower volume. I'm going to upgrade the tubes and see how that changes the tone.
Here's the link to part 2 of the review with a video demo, some sound examples and the final verdict.
Specs
Here's the list of specs for the 6505 MH from the Peavey website:
2x EL84 power tubes and 3x12AX7/ECC83 preamp tubes
Two footswitchable channels with 3-band EQ
Footswitchable crunch on Rhythm channel
Footswitchable reverb
Footswitchable buffered effects loop
Tube Status indication (T.S.I.™) circuit
MSDI™ Output with XLR and ground lift switch
USB output
Speaker defeat switch
Headphone output
Attenuator switch for 20 watts, 5 watts, or 1 watt output power
Footswitch included
Impedance switch for 16 or 8ohm cabinets
Weight Unpacked: 16.64 lb(7.55 kg)
Weight Packed: 20.50 lb(9.3 kg)
Width Packed: 13.125″
Height Packed: 19.375″
Depth Packed: 12.375″