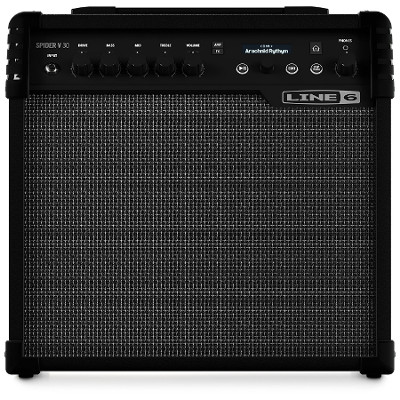 Line 6 released their new lineup of Spider V series modeling amps at the end of September 2016.
They replace the Spider IV amps and add a lot more effects (101) and amp simulations (78) for more control over the tone.
The Spider V amps also add built-in drum loops and a metronome, a full-range speaker system, a wireless receiver (except the V30), and offer direct recording into a DAW.
There are 4 models of Spider V amps available, the V 30, V 60, V 120, and V 240. The number indicates the wattage.
This review is for the Spider V 30 specifically but they all have the same built-in amps and effects, so the differences come down to hardware.
The V30 has an 8-inch speaker, the V60 has a 10-inch speaker, and the other two models have 12-inch speakers, with the V 240 having two. Plus they come with tweeters for full-range sound.
The V30 lacks the wireless receiver and XLR outputs found on the higher up models (the V 60 lacks XLR as well). But all models have an aux input for connecting a music player and an FBV pedal input for connecting a Line 6 foot controller. Plus they include a headphone jack.
Line 6 Spider V 30 Review
Pros
It's a full amp sim suite built-in to portable hardware, with tons of amps and effects included for a much wider range of sounds than with other amps, so no need for a bunch of extra pedals and other gear.
The Spider editor app makes adjusting presets and creating custom signal chains and tones quick and easy.
The amp doubles as an audio interface and can be connected directly to a computer to record in a DAW, and it comes with Cubase LE to do just that.
Cons
The 8-inch speaker sounds weak and pitiful. Listen to the sound examples through TV speakers or a clock radio and you'll get a good idea of what the V30 amp sounds like in person.
Takes lots of tweaking to get a good tone. A number of presets and simulations just don't sound very good to my ears. Some of the gear sounds outdated compared to newer amp sims.
Adjusting amp parameters and effects is tedious and irritating from the amp itself; using the Spider remote editor app for Android or iOS is pretty much required, and it works great but the one downside is you can't record in a DAW on your computer with it connected because they use the same connection.
The power button is inconveniently located on the back center of the amp.
Verdict
I decided I wanted to try the new Line 6 Spider V amps because I use amp sims all the time and I like the idea of having a small amp with a bunch of amps and effects built-in to use for practicing. That way I don't have to be tied to a computer, a computer monitor, an audio interface, and speakers every single time I want to strum a guitar.
At first I thought the new Spider V amp pretty much sucked (and still do) because I really don't care for most of the presets, especially the metal presets, and the interface is awkward to navigate from the amp itself. But once I got used to using the Spider app for editing the signal chain, it became easier to create acceptable tones. Still not good tones, mind you, but something that you can at least jam with.
There are 78 amps and 24 cabinets, 4 mics, and over 100 effects. It takes a lot of time to work through all that. Some of it's good. Some of it sounds like crap.
Ultimately I think the Spider V 30 makes for an okay practice amp but the speakers leave something to be desired and I would rather use other amp sims like Thermionik and Amplitube 4 for recording because they sound better and it's a heck of a lot easier to customize the tone after recording than it is before recording. The Spider V is good for recording rough drafts quickly, though, once you have some presets setup how you like. But there's no getting around the fact that the amp sounds pretty shitty overall.
Update: Here's a second review and video: Spider V Amp Review – Metal Samples. There's also this Spider IV vs Spider V Amp Comparison Review. Personally I like the Spider IV better than the Spider V 30.
Line 6 Spider V 30 Video Review
Line 6 Spider V 30 Sound Sample (Metal)
Here's a rough draft of a song that I recorded using the Spider V 30.
It is using the 2003 Deity's Son amp, which is based on a 2003 Diezel Herbert amp. It has a tube screamer in front with the 4×12 Treadplate cabinet and 421 mic.
There is no processing or EQing done on this recording; it's recorded straight from the Spider V 30, with EZdrummer on drums and a free bass amp sim for bass. The guitars sound better with an EQ to get rid of some of the buzzing and to bring out the mids more but I wanted it to sound like it is on the amp so there is no processing.
Software
The Spider V amps have a wider range of simulations than the Spider IV amps. There are way more onboard effects and amps included, and they added a metronome and drum loops to play along to.
The drum loops are okay but they are rather limited, and you can't change the tempo for some annoying reason, even though you can change the tempo of the metronome.
One of the most important new features with the Spider V series amps is the addition of the Spider Remote Editor app for iOS and Android. It lets you customize all the amps and effects, and is much easier and faster than trying to use the onboard controls.
See this page for a complete list of amp models and effects that come with the Line 6 Spider V amps. It's the same software setup as the Line 6 AMPLIFi products. Unfortunately they aren't using any of the newer HD gear with the Spider V amps so it's basically the same outdated stuff from the Pod X3 days. It makes no sense. Why offer older sims when they have newer and better-sounding stuff?
There are simulations of all kinds of amps, including Fenders, Marshalls, Soldano, Mesa Boogie, Bogner, and a lot more. There are a bunch of different delay effects, compressors, distortion pedals, reverb settings, a noise gate, EQ, and plenty more.
The Spider V amps also come with Cubase LE 8 to record, edit, and mix music from a PC or Mac computer. You can use it to record the Spider V amp directly by connecting it via USB. The Cubase software is actually really good for being the intro version. It supports 16 audio tracks, 24 midi tracks, and it comes with some usable stock plugins. Add some drum software and a free bass plugin and you're set to create full songs.
Spider V 30 Specs & Features
30 watts.
1×8″ custom speaker and tweeter.
Weight: 16 pounds 4 ounces.
Dimensions: H: 14.5″ W: 15.5″ D: 8″.
1/4″ Guitar input.
1/8″ Stereo Aux input.
1/4″ Headphone output.
USB port for connecting to a PC or Mac, or an Android or iOS device.
FBV foot controller port.
128 onboard presets.
78 amp models.
24 cabinet models.
101 effect models.
Tap tempo/tuner.
Price: $199 at Amazon
Helpful Spider V Links
How to Setup Spider V Amps to Record in Cubase and Other DAWs
Full List of Amps, Cabs, and Effects
Spider V Software Updates and Drivers
Spider V Factory Presets List (PDF)