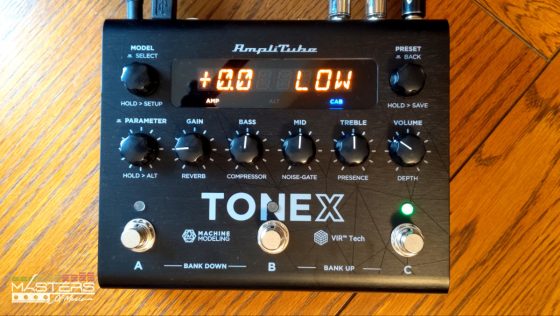 I bought a Tonex Pedal a couple months back to try out, and there are some things I like about it, but the software and onboard UI are confusing as hell.
On the Tonex Pedal itself, the single most important setting, "Trim In", is hidden behind multiple levels of clicking and scrolling so it's pretty easy to miss, and the quick start guide and manual don't really point out the importance of this setting, especially when first getting everything set up.
To access the Trim In setting on the Tonex Pedal, press and hold the top left button, then release and scroll down one spot to Global Setup and press the button once. Scroll down to Trim In and press the button again to adjust the setting.
As the manual states on page 25, set the level so that the "HI" indicator doesn't show up at all while strumming hard.
The default setting is +8 dB, and that's pretty high. IK states that setting provides the ideal gain for typical single coil passive pickups. If you have active pickups of humbuckers you may need to lower it in the 0dB range.
The "Trim In" setting has a major impact on the overall tone of every capture and preset on the Tonex Pedal because it's a global setting.
You have to readjust the setting when using different guitars with different pickups if there's a significant variance in output between them. Single coils need a higher setting than humbuckers and active pickups.
Having the setting too high can make clean amps sound distorted even when there's not supposed to be any distortion at all on a particular capture, and high gain amps can sound weak and lifeless if the setting is too low. If you're using a separate audio interface with the Tonex app on your computer, you'll notice tone differences between the app and pedal if the input trim settings isn't setup properly.
Video: How to Adjust Input Trim on Tonex Pedal