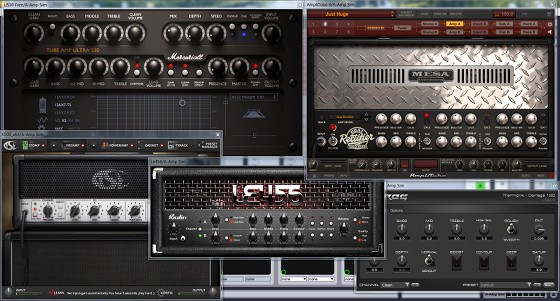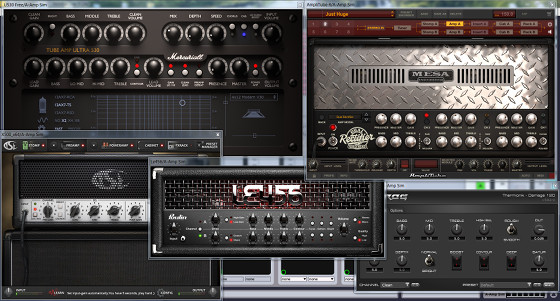 Below is a round up of the best free and paid amp sims for playing guitar using a computer instead of the old school method of playing through a "real" amp.
Amp sims have come a long way in recent years. Their realism and sound quality has improved immensely to the point where it can be impossible to distinguish them from the real thing.
Not all amp sims are on the same level, and none can achieve every possible guitar tone or specific kind of sound.
Some sims are better than others for certain types of music, and some end up sounding great for things you wouldn't expect.
Basically it all just comes down to a ton to testing to see which amp sims are the best for the particular sound that you are going for; there's not one "best" amp sim for everything.
There are way more amp sims on the market for guitar (not so much for bass amp sims) than you'd think, so let's get this list started.
Additionally, depending on the amp sim you are using, you may also need to use a separate cabinet loader and some impulse responses (cabinet simulations).
If you're new to all this, here are some tips for making guitars sound better with amp sims. You'll need a good equalizer (like the free DDMF IIEQ Pro EQ) and it helps to have a tubescreamer pedal in front with high gain amps (like the free TSE 808 pedal). And of course you'll need a digital audio workstation to work in; here's a list of free DAWs that can get you started making music in no time.
Free Amp Sims
LePou Amp Sims – There are five amp sims included in the LePou plugins package, including simulations of a Mesa Boogie Dual Rectifier, an ENGL Powerball amp, and a Marshal amp. There's also a free IR loader for cabinet simulations but it's only available in 32-bit. A good alternative is NadIR from Ignite Amps.
Brainworx bx_rockrack V3 Player – The Brainworx V3 Player is the free version of their bx_rockrack V3 amp sim collection. It includes a bunch of presets for several amp sim models. The limitation with the free version is you can't adjust any of the parameters other than the volume. But the presets cover a number of tones and sound really good, and you can always use other plugins and EQs to shape the tone outside of the plugin.
Amplitube 4 Free – You can get access to some free gear from IK by installing their AmpliTube Custom Shop, with the free version of AmpliTube 4 that includes 4 amps, 5 cabinets, 9 stomp boxes, 3 mics and 2 rack effects. But beware, it's like a gateway drug that induces buying more gear from IK.
Voxengo Boogex – The Voxengo Boogex amp sim is one of the better options for a free amp sim plugin. It includes a built-in reverb module, a noise gate, a cabinet IR loader that supports 3rd party IRs, and a spectrum analyzer. It's available in VST, AU, and AAX formats for PC and Mac.
Mercuriall Tube Amp Ultra 530 Free – Mercuriall Audio offers a free version of their U530 amp that simulates the ENGL E530 preamp. The free version has a number of limitations but it still works and sounds quite good with a very minimal amount of tweaking. Mercuriall also offers some other free amp sims, including ones for the Marshall JCM800.
Ignite Amps – There a number of really good free plugins available from Ignite Amps. They have everything from an IR loader, a bass amp, tube amps, pedals, and even a vintage tube equalizer.
AmpLion Free – Audiffex offers a free version of their AmpLion amp modeling software. One advantage with it over most other free amps is that it can be used as a standalone application without having to use a DAW. They also offer some other free gear, including a bass amp, and a bunch of simulated pedals, cabinets and microphones.
Vadim Taranov Amp Simulation – Vadim Taranov offers several free VST plugins in 32-bit that simulate amps such as the ENGL Invader, Marshall JCM800, ENGL E530, Peavey 5150, and more.
Paid Amp Sims
Amplitube 4 – Price: $149-$299, with frequent sales
Amplitube has been among the top brands for guitar amp sims for some time, with over two dozen available amps and a crapload of cabinets, speakers, mics, and effects. Amplitube 4 is a very comprehensive set of software with over a hundred paid add-ons and packages. The sheer number of choices and tweaking options with Amplitube can be overwhelming. See my AmpliTube 4 Review for more information and a video demo.
Scuffham S-Gear – Price: $129
A lot of people that use amps sims often and are familiar with the different brands consider S-Gear to be one of the best options around. S-Gear includes 5 amps, an IR loader with cabinet sims and a few effects. They offer a 15-day fully functional trial.
Thermionik – Price: $35 per 5-amp bundle, or $9 per amp
Thermionik includes 30 total amps to choose from. They come in sets of 5 amps for $35 with the option to make your own bundle or buy each individually for $8.99. There's also a complete bundle package with everything for $149, which also includes an IR loader, cabinet sims, a clipper, and EQ as well. Kazrog's plugins don't have sexy graphics like the other brands but their sound quality is top notch. Amp models include Fender, Marshall, Peavey, Mesa Boogie, ENGL, Vox, and more.
BIAS – Price: $69-$169
BIAS is a bit different in that it also offers an amp matching feature to capture any miked amp or recorded track. 36 HD amp models are included in the amp package, plus effects cabinets, mics and tons of customization options.
Guitar Rig 5 Pro – Price: $199
Guitar Rig 5 from Native Instruments is a complete guitar amp modelling package that features 17 amp models, 27 cabinets, 8 microphones and 54 stompboxes and rack effects.
Brainworx Amps and Pedals – Price: $49-$249
There are several different guitar amp and pedal simulations available from Brainworx over at Plugin Alliance, but they are some of the more expensive options on this list.
Line 6 Helix Native – Price: $399
Helix Native has a ton of amps and effects that can be used in a DAW independently from Line 6 hardware. It includes over 60 guitar amps, 30 cabinets, and 100 effects. There is no standalone version so a DAW is required, but it can load 3rd party IRs. There is no free version to try but there is a 15-day fully-functional demo.
Waves GTR3 – Price: $129
The Guitar Tool Rack from Waves includes over 30 amps, 30 Cabs, and 25 stompboxes. The have models for Fender, Vox, Mesa/Boogie, Marshall, and others.
Avid Eleven MK II – Price: $499
If money is no object and you are a Pro Tools users, than Avid's Eleven MK II amp modelling software may be just what you're looking for. It includes over 30 amps, 18 cabinets and 10 microphones. Works with Pro Tools only.
Peavey Revalver – Price: $99
Revalver 4 is the latest version of Peavey's own amp modeling software. You can buy amps separately or with a bundle package. As you'd expect, there are a bunch of Peavey amps available, along with a bunch of cabinets and some effects. You can get started with a couple of amp modules and some gear for free.
TSE X50 – Price: $69
TSE X50 includes two amp sims, the Peavey 5150 and ENGL E530. There're also 3 pedals, an EQ, delay, and tuner. The built-in IR loader comes with some really nice cabinet simulations and you can load your own. See my TSE X50 Review for more information and a video demo.
Mercuriall Tube Amp Ultra 530 – Price: $59
The Mercuriall Tube Amp Ultra 530 is based on the ENGL E530 preamp. The plugin also includes 8 cabinet models and three tube choices.
AmpLion Pro – Price: $99
The paid version of AmpLion's amp software features simulations of 9 guitar preamps, 7 power amps, 12 speakers, 8 microphones and 30 effects.
TH3 – Price: $249
Overloud's epic TH3 amp software includes an epic 203 models, with 69 guitar amplifiers and 3 bass amplifiers, 35 guitar cabinets and 2 bass cabinets, 75 pedal and rack effects, and 18 microphone models, with up to four mics on each cabinet.