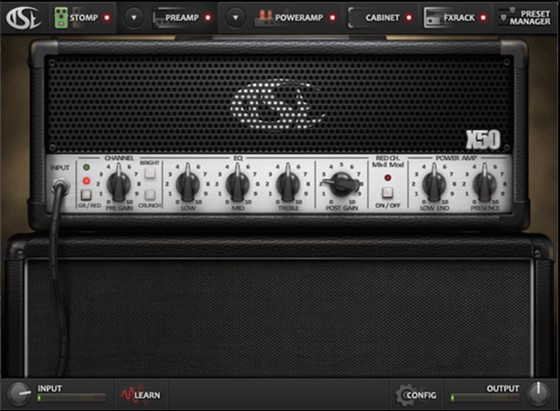 I've been trying out a bunch of different amp sims lately, including Amplitube 4 and the Mesa Boogie amps, Thermionik, and TSE X50 (the free Mercuriall and LePou plugins are nice amp sims too).
I wanted to put together some reviews and comparisons between them. First up is the TSE X50 plugin from TSE Audio, which includes two amp sims, three pedals, an IR loader with a bunch of really good IRs, a tuner, a preset manager, and delay and EQ rack effects.
The X50 simulates the Peavey 5150/6505 amp. With the release of version 2.4, the plugin now includes the X30 preamp as well, a simulation based on the Engl E530.
Both amps are great for high gain, and the X30 has a nice clean channel as well.
What I like about TSE X50 is that everything is contained into one plugin, with the pedal board, rack, cabinet, and amp sections all together. You can bypass each individual section, and you can save everything together as one single preset—and the preset manager works great for keeping everything organized and for sharing presets.
Something about the sound of the X50 suits my taste a little better than similar plugins and I keep coming back to it. It's easy to get a good sound with the X50 without much tweaking, and the included IRs give a good range of sound possibilities. I especially like the Rosen Digital IRs.
One thing my computer appreciates is the plugin is easier on the CPU than most other amp sims. On lower quality settings it only uses a few percent—my cheap laptop with a dual-core 1.8 GHz processor has no problem running multiple instances at once.
A couple of things I don't like are the delay and EQ rack effects. They are okay but better free delay and EQ plugins are out there. It would also be nice if there were more pedals and effects available. TSE Audio has mentioned on their Facebook page that they're working on some stuff, including Phaser, Reverb, Overdrive, and Vibrato-delay effects, so that's something to look forward to in the future.
TSE offers a free demo of the X50 plugin that you can download to test out. It just doesn't let you save anything and cuts out for a few seconds every 30 seconds or so. TSE offers some nice free plugins as well, including the TSE 808 pedal and a BOD bass pedal.
TSE X50 v2.4 Video Review
Below is a video that I put together showing how the TSE X50 amp sim works and explaining the different features. It includes some audio examples for high gain and clean using the X50 and X30 amps. After the intro if you want to skip the talking and just listen to the amps jump ahead to 6:20.
Stay tuned for the next review where I'll do a comparison between the X50 and Kazrog's Thermionik Psycho A and B Peavey 5150 amps.