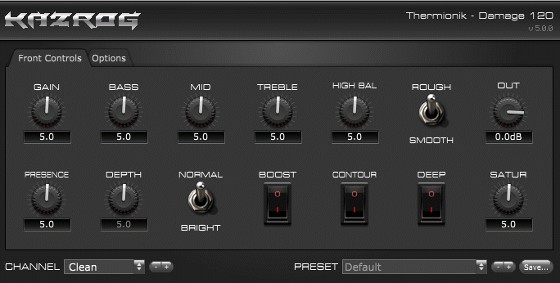 Recabinet 5 was finally released today. Well, sort of…
Recabinet 4 was a popular amp sim plugin by Kazrog that included 5 simulated amps and a bunch of cabinets and mics.
Now with the release of the 5th generation product, Kazrog has split Recabinet and Thermionik into two separate plugins.
Thermionik 5 represents the 25 new amps, each available in packs of 5 for $50 for new users and $30 for Recabinet 4 owners with code E44F5A52.
Each amp is now its own individual plugin.
Recabinet 5 now represents the cabinet and EQ section, which is also a separate plugin. It will be released in February 2016, and will cost $15 for new users.
So technically Recabinet 5 hasn't been released yet, but Thermionik 5 has, which includes 25 total amps that you can use with a separate IR loader like NadIR or the cabinet section of Recabinet 4 or other cabinet sim.
Recabinet 4 owners get free upgrades for the 5 amps included in 4 (modern classics I) as well as Recabinet 5 when it comes out, along with the IR library from 3 and 4. Plus the 40% discount on new amp packs.
It's amazing how many new amp sims that have come out over the past six months. I plan on posting some reviews and comparisons so stay tuned for more details.
Relevant Links
Thermionik 5
Recabinet 5
Online User Manual
Kazrog KVR Forum
List of 25 Simulated Amps
| | |
| --- | --- |
| Plugin Name | Inspired by |
| Thermionik Bassmensch | Fender '59 Bassman |
| Thermionik Blackverb | Fender '65 Deluxe Reverb |
| Thermionik Chimp | Fender '62 Champ |
| Thermionik Damage 120 | ENGL Savage 120 |
| Thermionik Duality 2ch | Mesa Boogie Dual Rectifier (2 channel) |
| Thermionik Duality 3ch | Mesa Boogie Dual Rectifier (3 channel) |
| Thermionik FB100 | Friedman BE-100 |
| Thermionik M2B | Mesa Boogie Mark IIB |
| Thermionik M2CP | Mesa Boogie Mark IIC+ |
| Thermionik M4 | Mesa Boogie Mark IV |
| Thermionik Marshland 45 | Marshall JTM45 |
| Thermionik Marshland 800 | Marshall JCM800 |
| Thermionik Marshland Jumpy78 | Marshall '78 JMP (stock) |
| Thermionik Marshland Jumpy79J | Marshall '79 JMP (Jose Arredondo mod) |
| Thermionik Marshland Jumpy79S | Marshall '79 JMP (Mike Soldano mod) |
| Thermionik OgreTuber | Bogner Uberschall (original, not Twin Jet) |
| Thermionik Plexi | Marshall Super Lead 1959 "Plexi" 100W |
| Thermionik Psycho A | Peavey 5150 |
| Thermionik Psycho B | Peavey 5150 II |
| Thermionik Psycho C | EVH/Fender 5150 III |
| Thermionik Serpent | Framus Cobra |
| Thermionik Solid 100 | Soldano SLO 100 |
| Thermionik Super 1690 | Supro 1690T Coronado |
| Thermionik Vocal30 | Vox AC30 |
| Thermionik Vocal30 TB | Vox AC30 (Top Boost) |