Here's a roundup of three of the best free bass plugins to use for DI recording, jamming live, or for practicing.
Lately I've been learning to play the bass guitar mostly for recording purposes because when you like playing metal and hard rock like I do, fake bass just doesn't cut it in the mix, not unless you want to spend a fortune on bass modeling software and then spend countless hours learning how to use it.
There's no substitute for the real thing, and with the free plugins below you can make your bass sound like a beast.
It's amazing how easy it is to get even a cheap bass guitar to sound great with these plugins.
So far my favorite is Ignite Amp's SHB-1. You can get a good range of tones with it, and it's easy on CPU usage. But the TSE B.O.D sounds good too.
I haven't had a chance to test out the free Solid State Bass Preamp that comes with AmpliTube Custom Shop, but it's another good free option. IK's Ampeg SVX is one of the more popular paid bass amp sim plugins.
If you know of any other good free bass amp sim plugins, please share them in the comments section.
Best Free Bass Amp Sim Plugins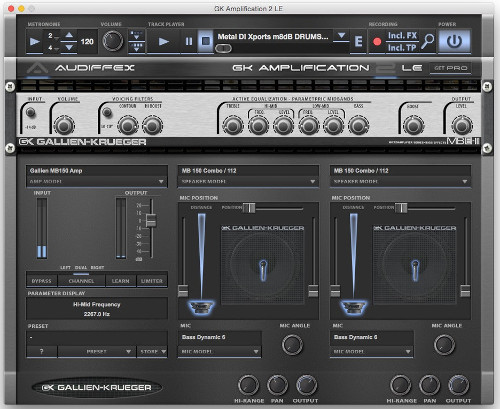 The GK Amplification 2 from Audiffex is a free bass amp sim modeled after a Gallien Krueger bass amp and it also comes with a MB 150 cabinet and an Audix D6 mic. It works as a plugin in VST, AU, and AAX formats and it's also a standalone program.

The SHB-1 is modeled after the real SHB-1 bass tube amp, which was custom built by Ignite Amps for Federico Fulceri, the bass player for the Italian thrash/death metal band Subhuman. The plugin is available for PC and Mac in AU and VST formats, with support for 64 and 32 bit.
Solid State Bass Preamp in AmpliTube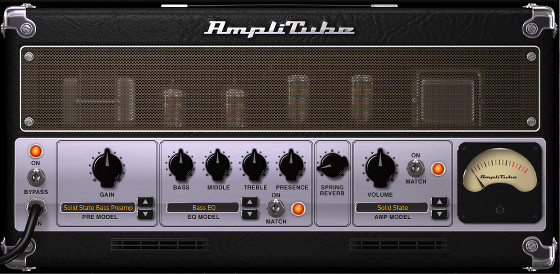 The AmpliTube Custom Shop comes with some free gear to get users started, which includes a Solid State Bass Preamp, along with a few free effects, cabinets, stomp boxes, and three other amps.
The good thing about AmpliTube verses the other two free plugins is it's a standalone program so it doesn't require the use of separate DAW software. But it's also available as a plugin for VST, AU, and AAX formats, with support for 64 bit only.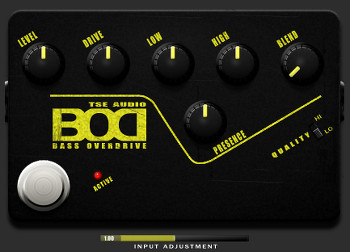 The TSE B.O.D. is a digital replica of the SansAmp Bass Driver DI pedal, a popular bass preamp DI box with distortion, presence, and EQ controls. The free plugin is available in VST, AU, and AAX formats, with support for 64 and 32 bit.
TSE also offers a really good free tube screamer pedal called the TSE 808 that's worth checking out. It's based on the famous Ibanez tube screamer pedal.