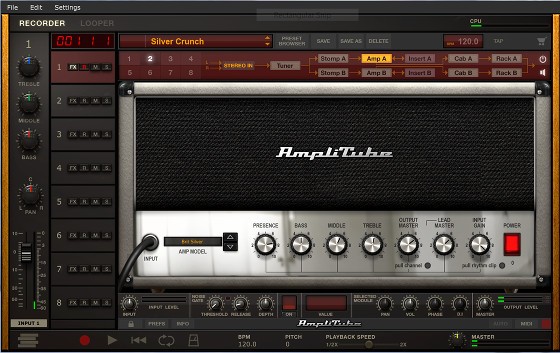 Review Date: April 2016 – Software purchased from IK Multimedia
Here's a quick to-the-point, no bullshit review of AmpliTube 4, devoid of the usual regurgitated marketing spiel.
At the bottom of the article there's a video walkthrough that shows all the main features of AmpliTube 4 and includes some getting started tips to help make using the software easier.
Also don't forget to check out the AmpliTube 4 Tips and Tricks Guide for more tips.
Overview
AmpliTube 4 was first released in October 2015, and is one of the more popular amp sims on the market.
It works with 64-bit PC and Mac computers, and can function as both a standalone program and as a plugin for most DAWs.
There are several different versions of AmpliTube available, along with add-on packs for specific gear like Mesa Boogie and Fender amps.
This review covers the entry-level version of AmpliTube 4. There's also a deluxe bundle that adds over 115 pieces of gear and AmpliTube Max that includes all the add-on collections and all the gear.
AmpliTube 4 Review – What you Get
All the AmpliTube versions and add-ons make things a bit confusing, especially for beginners, so let's start with what the base version of AmpliTube 4 comes with.
IK says that AmpliTube 4 comes with over 60 pieces of gear, but what they don't say is that nearly half of that is available in the free version of Amplitube as well, so you're not getting as much as they try to make you think.
Here's the gear you get with Amplitube 4 that's not available in the free version:
5 Classic British Amps: Brit 8000, Brit 9000, Red Pig, Brit Silver and Brit Valve Pre.
5 Cabinets: 4×12 Brit 8000, 4×12 Brit 9000, 4×12 Red Pig, 4×12 Brit Silver, 4×12 Brit 30.
New cab room with lots of added options, custom speaker selection (29 models), room selection (6), mixer room, and more.
Double dynamic 57 microphones.
Acoustic sim.
UltraTuner.
8-Track recorder/DAW and looper (standalone).
Amplitube 4 Amp Models
I wasn't sure what to expect from the included amps because I mostly prefer high-gain amp sims that simulate Engl, Mesa and Peavey amps, but IK's Marshall amps actually sound quite good, better than expected.
The presets don't do the amps much justice but adding some pedals and effects and doing a little tweaking makes a world of difference.
The Brit Silver has some nice distortion and lead tones, especially when switching out the cab. The Brit 800 can roar with a tubescreamer in front, and I like the sound of the 800's cab better than the others. The Red Pig has some good classic rock, bluesy tones. But it all depends on what sounds you're looking for and what pedals and effects you use.
Personally I tend to favor IK's Mesa amps over their British amps because they sound more powerful but it all depends on what kind of tone you're going for.
Brit 8000 – Marshall JCM800 with Marshall 1960 Lead Vintage 4×12 slanted cabinet loaded with G12-80 speakers.
Brit 9000 – Marshall JCM900 with Marshall 1960A Lead Vintage 4×12 slanted cabinet loaded with T75 speakers.
Red Pig – Marshall Major 200 with Marshall Major 4×12 slanted cabinet and T75 speakers.
Brit Silver – 1987 Marshall Silver Jubilee with Marshall 2551A 4×12 slanted cabinet and T75 speakers.
Brit Valve Pre – Marshall JMP-1 valve preamp with Marshall 1960A Lead Vintage 4×12 slanted cabinet and V30 speakers.
AmpliTube 4 Reviewed
Pros
Sounds good. The most important thing about any amp sim is how it sounds, and AmpliTube nails the sound, especially once you get things dialed in. Even if you're not a fan of the style of the included "British" amps, they have so much gear that there's something good for just about every style.
Looks good. With the 3D cab room and realistic amp heads, AmpliTube has some of the best-looking graphics of any amp sim on the market, and the interface is nice and large and easy to see.
Endless options. There's over 300 pieces of gear available from the AmpliTube shop, and every individual piece can be tested for free for 72 hours so it makes it really easy to try new stuff and find what sounds good.
Fun. It's a lot fun having access to so many different types of amps, pedals, and other gear. In real life most guitarists are lucky to have one or two really good amps; in virtual life you can have twenty, with all the cool gear and effects that go along with them.
Cons
Gateway drug. AmpliTube is a direct entrance into IK's shop of seemingly endless gear. Buying AmpliTube 4 is just the tip of the iceberg; you need to buy additional gear to get the best tone. More pedals, amps and rack effects to no end if you're not careful. If you're on a tight budget walk away now…
Interface overload. It would be really nice if AmpliTube had the option to view only the gear that you own, but that's far from the case. Every single piece of gear available in AmpliTube muddies up the interface so you have to scroll through endless lists to hunt for the gear that you actually own. Plus most of the presets are useless unless you own all the gear because annoying nag screens popup every time you try to use a preset with something you don't own.
Included effects suck. Quite frankly most of the included stompboxes and effects aren't very good, including the new acoustic sim that sounds nothing like a real acoustic guitar. You have to buy the good stuff. Even IK describes the included pedals as "generic" in the user manual so don't expect much out of them.
Too many options? The sheer number of settings, all the available gear and the endless combinations can be downright overwhelming, especially for beginners. Sometimes too many choices can get in the way of productivity, and that takes away from actual playing time.
Verdict
Using AmpliTube 4 can be a lot of fun and it can also be quite annoying at first. It takes some time to get used to the interface and how to workaround IK always trying to sell you more gear.
There are a lot of things to learn at first, and the user manual doesn't do a very good job of explaining details. But once you get used to the setup and learn the intricacies of using the software it's pretty hard not to like AmpliTube 4.
Plus it's nice to be able to save your entire setup from pedals to post-effects in one single plugin.
One thing about AmpliTube 4 is it's not the best value compared to some other amp sims packages out there. Some offer a lot more gear for the price if you're on a tight budget and don't have a lot to spend. See the amp sims list below for a look at the prices of some other brands.
Related Articles
Best Free and Paid Amp Sims
AmpliTube 4 Tips and Tricks Guide
TSE X50 Amp Sim Review
AmpliTube 4 Video Review + Tips
This video review is more about using the software itself than demoing what kind of specific guitar tones you can get, but I'll probably upload some videos reviewing specific amps later as well.