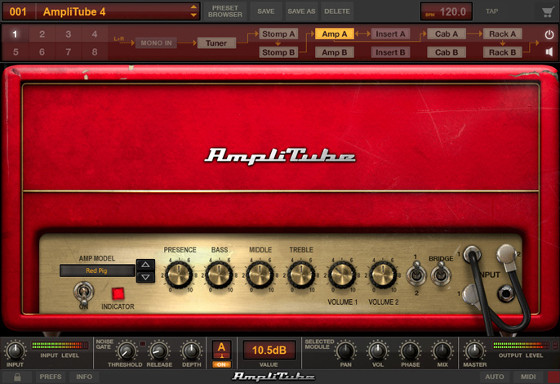 IK Multimedia released the latest version of their popular guitar and bass amp modeling software today.
Yep, that's right. AmpliTube 4 is now available for download. It works with Mac and PC computers and can be used as a plugin for your favorite DAW or as a standalone program.
This latest version of AmpliTube adds a number of new features and amps.
There's a new 3D cabinet section that lets users set custom mic positions using two microphones. Plus it includes new speaker modeling with over two dozen individual speakers to choose from.
Five new simulations of Marshall amplifiers are included in AmpliTube 4: the Marshall Major, Marshall Jubilee, the JCM800, JCM900, and JMP-1, all with matching cabinets.
There's a new acoustic simulator pedal that can make an electric guitar sound like an acoustic guitar. The sim models three acoustic body styles and three types of top material.
The standalone version of AmpliTube 4 includes a new built-in 8-track DAW so you create recordings and play around with different song ideas and guitar track combinations.
There's also an UltraTuner to keep things in tune and a 4-track MIDI-controllable recorder/looper.
AmpliTube 4 is available to download from the IK Online Store. The introductory price is $99 (or 100 Gear Credits) until November 2, then it goes up to the regular price of $149.
Additionally you can test new gear for a limited time and get access to some free amps and pedals using the AmpliTube Custom Shop software, the free version of AmpliTube.
List of Included Gear
10 Pedals – Acoustic Sim, Chorus, Flanger, Opto Tremolo, Delay, Wah Pedal, Diode Overdrive, Compressor, Graphic EQ, Volume Pedal.
9 Amplifiers – 5 Classic British Amps: Brit 8000, Brit 9000, Red Pig, Brit Silver and Brit Valve Pre, plus American Tube Clean 1, American Tube Clean 2, British Tube Lead 1, Solid State Bass Preamp
10 Cabinets – 4×12 Brit 8000, 4×12 Brit 9000, 4×12 Red Pig, 4×12 Brit Silver, 4×12 Brit 30, 4×10 Open Vintage, 1×12 Open Vintage, 2×12 Closed Vintage, 4×12 Closed Vintage 1, 1×15 Bass Vintage
Speakers – 29 vintage and modern individual speaker models
3 Microphones – Dynamic 57, Condenser 414, Condenser 87
2 Rack Effects – Digital Delay & Parametric EQ
2 Tuners – UltraTuner plus a Fully chromatic rack tuner
AmpliTube Deluxe Package
There's a deluxe version of AmpliTube 4 that comes with all the optional add-on equipment that sells from the Custom Shop (note that it doesn't include the extra AmpliTube collections, such as the Mesa Boogie amps).
The deluxe package adds over 100 pieces of additional gear from amplifiers, to stompboxes, cabinets and more. The complete list can be found on the description page, linked below.
AmpliTube 4 Deluxe sells for $299 (or 300 gear credits). If you buy the 300 credit pack that works out to $225.
AmpliTube 4 Mesa Boogie Bundle
For a limited time (from now until November 30th), IK is offering a special bundle deal for an AmpliTube 4 Mesa Boogie Bundle.
As the name implies, it combines AmpliTube 4 with the new Mesa Boogie collection. It's a pretty killer combo. You get all the new Marshall amps and all the improvements with AmpliTube 4, plus all the new Mesa amps, including the the Mark III and Mark IV, the Dual and Triple Rectifiers, and the TransAtlantic TA30—all with matching cabinets too.
The AmpliTube 4 Mesa Boogie Bundle sells for $199 (or 200 gear credits). It's only $159 if you buy the 200 gear credits pack.
You can also get 10 free gear credits just by installing the free SampleTank CS software from IK. That's enough to buy the Ibanez tuber screamer pedal from the Custom Shop, or you can put it towards some other gear.
Personally I had decided not to buy AmpliTube 4 because I only like a couple of the new included amps, but now that they've thrown this Mesa bundle into the mix it's going to be pretty impossible to pass up for $160. But being the cheap bastard that I am, I can't help but wonder if it's going to get even cheaper if IK happens to run a gear credits sale for Black Friday/Cyber Monday weekend…
AmpliTube 4 – New Gear Video