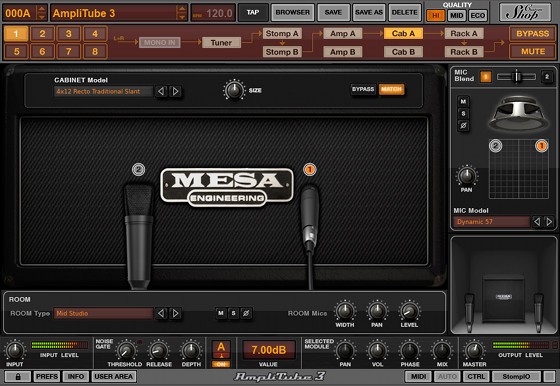 Today IK Multimedia announced the official release of their new AmpliTube MESA/Boogie collection of amps and cabinets, the first officially authorized digital MESA gear co-developed with the R&D Team at Mesa Engineering.
Amp models include the Mark III and Mark IV, the Dual Rectifier and Triple Rectifier, and the TransAtlantic TA-30, Mesa's take on a classic British EL84 amp.
This release comes a week earlier than expected based on the initial announcement, which is a pleasant surprise.
Even better, there's a $99 introductory price that's valid until September 1st, at which point it goes up to the regular price of $149.
That's for the whole pack of 5 Mesa amps and matching cabinets. Individual amps are available for $35 each, cabinets are $10. IK also sells gear using credit points, so it can work out a bit cheaper if you play your cards right. For instance, you can get 10 free credits just for downloading and installing the free version of SampleTank Custom Shop, which is worth getting anyway because it comes with 30 free software instruments.
You can sample the MESA/Boogie amps before buying. In order to do so you have to download and install the AmpliTube Custom Shop software on your computer.
The AmpliTube software is compatible with Mac and PC computers. It works as a standalone program as well as a DAW plugin.
Here's a video that IK uploaded to give an idea of how the amps work and how to customize sound, mix and match amps and cabinets, tweak mic placement, etc.
AmpliTube MESA/Boogie – Overview