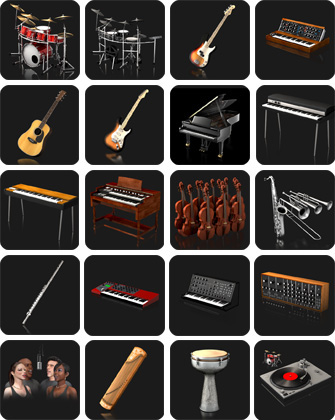 IK Multimedia has announced the release of a new free version of their SampleTank 3 audio software called SampleTank Custom Shop, and it comes with 30 free fully editable virtual instruments.
SampleTank CS is a curated version of the paid software. It's fully functioning—it's not a demo and it doesn't expire. The free version offers a bunch of features and effects, and you can purchase add-on instruments and sound collections from within the software, or upgrade to one of the paid versions of SampleTank for more features and sounds.
SampleTank can be used as a plug-in or as a standalone program.
It works with MAC and Windows, and requires a 64-bit operating system. It's available in AU, VST 2, VST 3, and AAX formats.
In addition to the 30 free instruments, SampleTank CS has 55 effects included. There are the usual things like reverb, delay, EQ and various filters, along with some chorus, flanger and phaser effects.
Some amps are even included in the free version. Here's the list: American Vintage T, Amp Combo, British Tube Lead 2, Jazz Amp 120, Modern Tube Lead, and SVT Classic. There's also a cabinet, preamp, tone control, and several distortion effects.
Other notable features with SampleTank CS include: editing and effects for included 30 instruments; assignable MIDI controls and MIDI Learn; four play modes—poly, mono, legato 1 & 2; BPM syncable time-based effects, audio loop instruments and LFOs; 16 individual stereo outputs; 16 channel mixer; pad interface can launch patterns, loops or single notes from iRig Pads or any MIDI controller; and there are 3 synth engines.
For more details checkout the specs page. Here's the list of free instruments and sounds available in SampleTank Custom Shop:
Piano:
Grand Piano 1 SE
6 MIDI patterns
Acoustic Drums:
Alt Rock Kit
8 MIDI patterns
Electronic Drums:
EDM Kit 1
6 MIDI patterns
Bass:
P Bass Finger
Fretless J Bass
Fretless J Bass Solo
5 MIDI patterns
Synth Bass:
Hard Alpha Bass
Pulse Sub Bass
Hip Hop Bass 1
Hip Hop Bass 1 Legato
9 MIDI patterns
Percussion:
Dumbeks
3 MIDI patterns
Loops:
Hip Hop 9 109 bpm
EDM 4 128 bpm
Synth Lead:
Rawsaw Lead
3 MIDI patterns
Synth Pad:
4-Osc Analog Velo Pad
Juniper Strings
Juniper BP Sweep
3 MIDI patterns
Synth FX:
Jazz Funk Orch Stabs
1 MIDI pattern
Acoustic Guitar:
Steel String 2 Picked
3 MIDI patterns
Electric Guitar:
Single Coil 1 Slight Mod
5 MIDI patterns
Ethnic:
Gu Zheng Multi
3 MIDI patterns
Electric Piano:
Stage EP
Wurly Stage
Ballad Wurly
7 MIDI patterns
Organ:
3-5 Drawbars Organ
3 MIDI patterns
Chromatic:
Clavinet 1 Phaser
2 MIDI pattern
Strings:
11 Violins
3 MIDI pattern
Woodwinds:
Flute
4 MIDI pattern
Brass:
Sax, Trombone and Trumpet
4 MIDI pattern
Voices:
Ooh Soft Ensemble
3 MIDI pattern
You can get these all for free when you download the SampleTank Custom Shop.