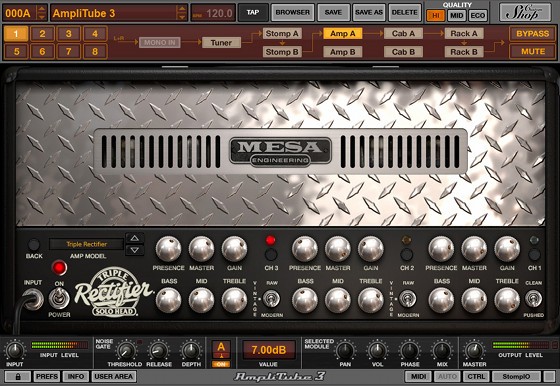 Amp sims have become more and more popular in recent years thanks to how easy they are to use and how advances in technology have made them sound closer to the real thing.
Last week IK Multimedia and MESA Engineering announced that they've collaborated on a new project to bring a set of five Mesa Boogie amps and cabinets to AmpliTube in a new collection called AmpliTube MESA/Boogie.
It's not available for download just yet; it's up for pre-order and is expected to be released on September 1st. The introductory price is $99. After release the price will go up to $149.
The software is available through the AmpliTube Custom Shop and works with Mac and PC computers. It's both a standalone program and a DAW plugin.
The AmpliTube MESA/Boogie collection is the first officially licensed set of Mesa amp sims. It includes digitized replicas of the Mark III and Mark IV series amps, as wells as the infamous Dual and Triple Rectifers. There also a mid gain queen, the Transatlantic TA-30 amp, which features a classic British EL84 tube sound.
According to the press release, all five models have been precisely crafted to sound, look and perform just like their hardware counterparts, with extensive testing and the stamp of approval by the Mesa Engineering team.
Here's the full list of gear included in the AmpliTube MESA/Boogie pack:
Amplifiers
Mark III Combo
Mark IV Combo
Dual Rectifier Head
Triple Rectifier Head
TransAtlantic TA-30 Combo
Cabinets
1×12″ Mark III Combo
1×12″ Mark IV Combo
2×12″ Rectifier Horizontal
4×12″ Recto Traditional Slant
1×12″ TransAtlantic TA-30 Combo
AmpliTube MESA/Boogie Video Promo