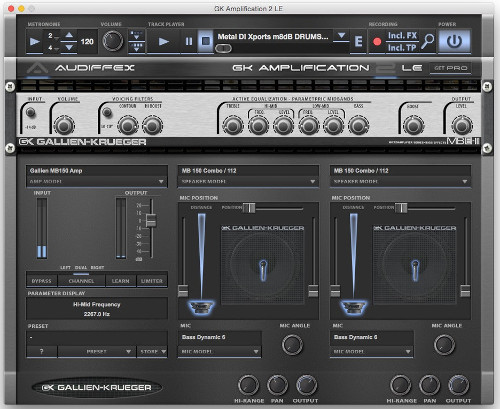 The folks at Audified have started experimenting with some pay-what-you-want deals for their digital products, which means that you can get them for totally and completely free if you're a cheap bastard like me.
You can get a Gallien Krueger bass amp sim, complete with a cabinet and mic for free. It works as a plugin and as a standalone program for practicing and jamming live.
You can also get a pack of eight overdrive and distortion pedals for free.
They've also got their Multicab pack available as pay-what-you-want. It includes simulations of 12 popular cabinets and 8 microphones.
The pedals and cabinets are available in VST and RTAS formats. The bass amp sim is available in VST and AAX.
As far as the bass amp sim is concerned, it's a lite version anyway and probably should be free to begin with like the free AmpLion amp sim, so it's more or less creative marketing. I tried to test it but there's nothing I can do to get it to show up in Ableton Live 9. They say it's 64 bit but Ableton doesn't seem to think so. The standalone program seems pretty good, though, especially for the price.
The paid version of GK Amplification 2 is $79. It has the same overall features as the free version but it adds several extra simulated amps, cabinets, and mics.
Free Gear Links
The Gear
Simulated amps: Gallien Krueger MB150.
Simulated cabs: MB 150.
Simulated mic: Audix D6.
Simulated Pedals
Brian May Booster
Dunlop MXR Distortion+
Pro Co RAT distortion
BOSS Overdrive OD-1
BOSS Super Overdrive SD-1
Ibanez Tube Screamer TS-9
Ibanez Tube Screamer TS-808
BOSS Metal Zone MT-2
Simulated Cabinets
Marshall MG30FX Combo
Fender Blues Junior Combo
Fender RocPro 700 Combo
Line6 Spider Valve Bogner
Engl E320 Thunder 50 Combo
Marshall JCM900 Combo
Open Marshall TSLC
Closed Back MesaBoogie Rectifer 212
Half Back MesaBoogie RoadKing – left speaker
C90 Half Back MesaBoogie RoadKing – right speaker
V30 Closed Back MesaBoogie Rectifer 412 Slant
Closed Back Marshall 1960A
Simulated Microphones
Shure SM57
Audix i5
Rode NT1-A
AKG C1000
AKG C451
Sennheiser MKH40
Audix D6
AKG D112
Audiffex MultiDrive Pedals Video Demo
GK Amplification 2 LE Video Demo
MultiCabinet Video Demo