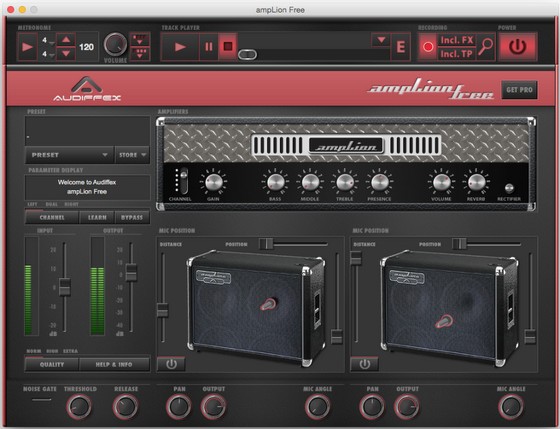 Audified recently updated the free version of their AmpLion amp sim software. Some of the new features include an intelligent metronome, a built-in audio player to play along with your favorite songs, and an advanced recorder.
AmpLion is available as a plugin and as a standalone program for PC and Mac computers, which is a nice option for guitarists that don't own or want to use expensive music recording software to practice, play and record guitar using a computer.
The free version of AmpLion includes a five channel guitar amp and two cabinets with custom mic placement.
There's also a paid version for $99 that adds a bunch of additional features and effects, along with a number of add-ons (pedals, cabinets, etc).
I'm a big fan of the collection of LePou free amp sims, but they aren't available as a standalone program and don't have the added features for recording and playing audio like AmpLion, so it's always good to have additional options.
The description doesn't say if the free version of AmpLion supports third-party IRs. If not you could place the free NadIR plugin after AmpLion in your chain to help get a better tone.
AmpLion Free Amp Sim