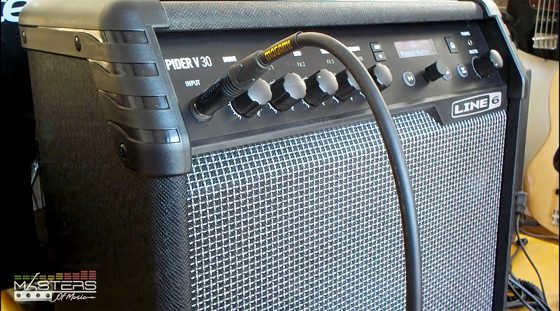 Last week I posted a review of the Line 6 Spider V 30 amp and I wanted to put together another quick review specifically about how the Spider V amp sounds when it comes to metal tones.
The Spider V amps have a bunch of high-gain amp simulations built-in and over 100 effects, including various distortion pedals.
Unfortunately most of the metal gear has a lot of fizz and noise and pretty much sounds like shit. I usually like Dual Rectifiers but I don't care for the Line 6 Mesa sims at all because they are too muddy and rattly.
There are much better-sounding amp sims out there, like the ones from Thermionik and Brainworx. You can find a list of amp sims here, which includes a number of freebies as well: Best Free and Paid Amp Sims.
The Spider V amps have a few amps and cabinet models that can get an acceptable tone for metal with some work. I didn't care for any of the metal presets.
So far I like the Deity's Son amp the best paired with the Treadplate cabinet. The 1×12 Blackface cabinet isn't bad either but it sounds too buzzy for recording. I can get some decent tones out of the Solo 100 Head and Mississippi Criminal amps as well.
The recorded sound examples in the video below are done using the Spider V amp itself with a USB cable. It helps to use headphones because it's hard to track guitars through the amp when recording since it's just a crappy mono speaker.
The guitars are double-tracked with one panned left and right. The lead guitars are using the same settings but with an analog delay pedal added to the chain. I used EZdrummer for drums and a free bass amp sim for bass. The guitar used was a Schecter Blackjack SLS in drop C tuning.
The amp settings are shown while the song clips are playing, along with the high-gain amps that come with the Spider V amps and a list of what each one is modeled after.
There was no EQing or post-processing applied to these clips because I wanted it to sound exactly how it is recorded directly from the amp. The guitars sound a lot better with a post EQ but that's not an accurate representation of their natural sound.
See my Line 6 Spider V 30 review for more details about the amp.
Line 6 Spider V Amp – Metal Recordings