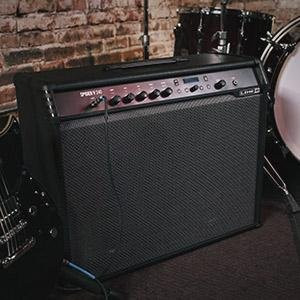 Line 6 announced the release of a new range of Spider V series guitar amps today.
They come with some interesting new features, including built-in wireless receivers for going cordless and the option to connect directly to a mobile device or PC to record into a DAW.
There are four different models in the new Line 6 Spider V series lineup.
They have different speaker size and wattage combinations than the previous Spider IV models.
They are available in 30, 60, 120, and 240 watt versions, starting at $199 for the V30 and going up to $499 for the V240.
The V30 has an 8-inch speaker, the V60 has a 10-inch speaker, and the higher up models have 12-inch speakers, with the V240 having two. Line 6 also added a secondary high-frequency tweeter speaker to the V series for better sound quality.
The V30 lacks some of the features on the higher-up models, like the wireless receiver and XLR outputs.
All four models have the same built-in effects and presets, no difference there. That's that main thing that separates the Spider amps from other amps—it's kind of like having hardware with amp sims and effects pedals built-in.
The spec sheet says the new models have updated amps, cabs and effects. 78 amp models are included, along with 101 effects and 128 presets, with settings for specific bands and songs.
Another couple of handy new features added to the V series amps is the inclusion of a metronome and drum loops. The option to plug the amp into a computer to record using a DAW is a nice new feature as well, and it even comes with Cubase LE 8 to record, edit, and start making music with no need for extra gear.
About 5 years ago I bought a cheap Spider IV amp for practicing because I didn't want to have to deal with a bunch of extra pedals for effects. It's good for certain sounds, especially at lower volume, but not so good for others. I still like the delay better than any plugins I've tried.
Here's the press release for more details about the new Line 6 Spider V amps.
Introducing Spider V Guitar Amps