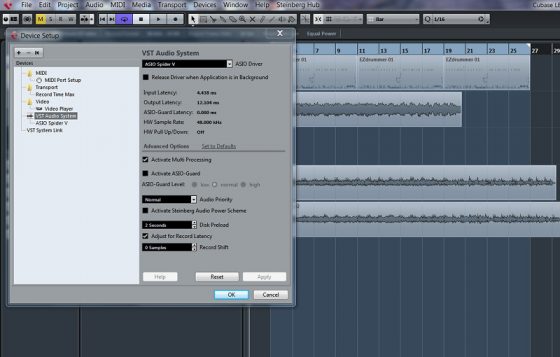 The new lineup of Line 6 Spider V amps have the unique capability of doubling as a USB audio interface to enable recording the amp directly in a DAW.
The Spider V amps come with Cubase LE 8, a starter DAW that has a surprising number of features and tools for being a free download.
You can use Cubase to record, edit, and produce music without needing extra gear. All you need is a basic USB printer cable to plug the amp into a computer.
Cubase also includes a few built-in amp sims to play around with but they aren't very good (there are better free amp sims out there, like the new free V3 Player from Plugin Alliance).
Unfortunately Line 6 currently doesn't offer any directions whatsoever on how to setup a Spider V amp to work with Cubase, so here's a quick tutorial on how to get started.
First things first, you have to download and activate Cubase LE 8 before you can get started, unless of course you plan on using a different DAW.
You don't have to use the included Cubase software to record a Spider V amp; you can use other DAWs, and it even works with Android and iOS recording apps as well.
Download Cubase
To get the free download code for Cubase LE 8 you have to register your Spider V amp on the Line 6 website.
Then you have to setup an account on the Steinberg website to get the download for Cubase 8 LE and to get the activation code and install directions.
Then after you install Cubase, there's also this 8.0.40 software update that oddly isn't included in the main download.
Download Spider Driver
On Windows computers, you have to install the Line 6 driver to get Cubase and other DAWs to recognize the amp as an audio interface.
The page isn't directly linkable but you can enter your amp model and OS on this software page to download the Line 6 Driver.
Make sure to install the driver before plugging the amp into your computer.
If you encounter any problems getting Cubase to recognize the Spider V amp, make sure the driver installed properly because the first time it didn't install on my PC and I was wondering why it wasn't showing up on the list.
Setup Cubase for Spider V
First, plug the Spider V amp into your computer and turn it on.
You can choose to use the ASIO Spider V driver when Cubase starts up. Or you can open a project and go to Devices > Device Setup > VST Audio System > then select ASIO Spider V from the list (click the picture above for a closer look).
To start recording, all you have to do is create an audio track and then click the "monitor" and "record enable" buttons on the audio track to hear the amp, then hit the main record button to start recording. There are some good video tutorials on YouTube to learn how to use Cubase.