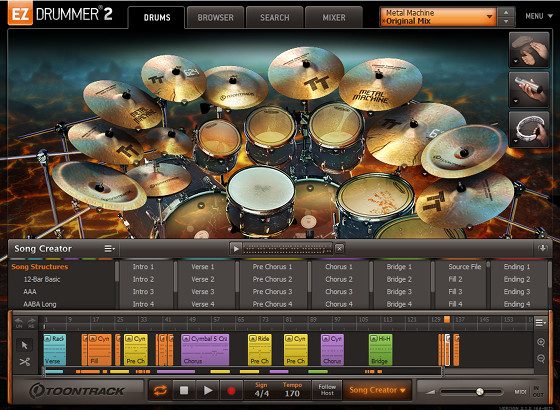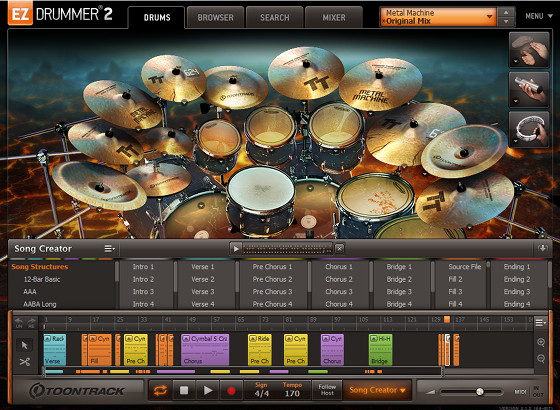 Below is a list of the best free and paid virtual drum software programs available to download right now.
They are available for PC and Mac computers in plugin formats to use with DAWs and most operate as a standalone program as well.
Unless you plan on mastering the technique of recording an acoustic drum kit and finding a drummer to play for you all the time, having a good drum software plugin is one of the most important aspects of music creation.
It's amazing how realistic virtual drum software has become over the years.
Drum software is also surprisingly versatile. You can create custom kits and sounds with endless variations.
You can use MIDI keyboards and drum pads to trigger drum sounds, and connect e-drum kits like the Alesis DM10 to play virtual drums in real time with an electronic drum set.
There are several good choices when it comes to drum software. Some have more expansion packs than others, some offer larger MIDI libraries (ready-to-use drum loops), and others have more advanced editing and mixing tools.
Best Free Drum Software
Sennheiser DrumMic'a – A surprisingly high-quality free drum kit plugin with variable mics, a mixer, and a number of included MIDI loops. It just requires setting up a free account to register the softwrae. DrumMic'a works with the free version of Kontakt 5 Player.
MT Power Drum Kit 2 – A former paid plugin, MT Power Drum Kit 2 has a number of included features, such as a built-in mixer and a bunch of high-quality MIDI grooves. MT Power Drum Kit 2 is available in VST and AU formats in 32 and 64 bit versions. There are some MIDI mapping presets available to use it with other drum programs as well.
Best Paid Drum Software
Toontrack EZdrummer 2 – Estimated price: $149 – EZdrummer is one of the most popular drum production software programs. It's very simple to use and yet it offers a number of advanced features. The base version comes with 5 drum kits, two sound libraries, some MIDI grooves, and a mixer with effects. It works as a plugin and standalone program. There are tons of expansion packs for additional drum kits covering a wide range of genres.
FXpansion BFD3 – Estimated price: $349 – Another top choice is BFD3. It comes with 7 drum kits, with dedicated rock, metal, jazz, and brush kits. It has a fully-editable groove engine to make creating custom grooves quick and easy. BFD3 works as a plugin and as standalone software. It comes with an extensive virtual drum library with 55GB of sounds.
Addictive Drums 2 – Estimated price: $149 – If you're looking for an extensive library of included beats, XLN Audio's Addictive Drums 2 comes with over 5000 MIDI grooves ready to go. It has three custom drum kits, and features a Transient Shaper and Tone Designer and some included effects to fine-tune your sound. Addictive drums can be used as a plugin as as a standalone program.
Toontrack Superior Drummer 2.0 – Estimated price: $179 (on sale) – Superior Drummer is Toontrack's more advanced version of EZdrummer, and it works with EZdrummer 2 expansion libraries. It offers more ways to adjust sounds and tweak individual parameters, and it comes with more effects and 20 GB of included drum samples.
Steven Slate Drums 4.0 Platinum – Estimated price: $149 – A virtual drum library with 100 included drum kit presets and a drum sampler to create custom grooves. Steven Slate Drums come in VST, AU, and RTAS formats.
Studio Drummer – Estimated price: $149 – Native Instrument's Studio Drummer comes with three drum kits, a dedicated mixer with effects, and over 3500 included drum patterns. Studio Drummer works with the Kontakt 5 Player.