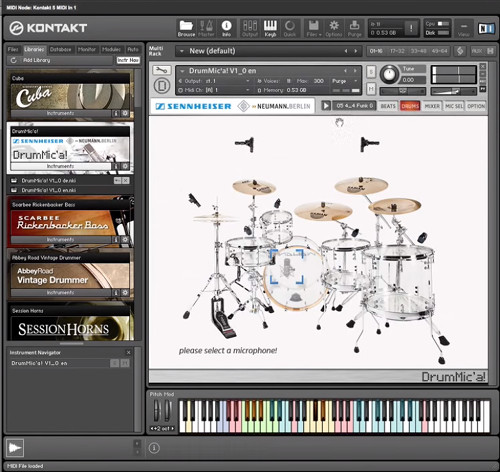 If you are looking for a high-quality drum kit plugin for free, Sennheiser's DrumMic'a is a top choice. Along with the aforementioned MT Power Drum Kit 2, both can cover a wide variety of drum sounds for various types of music.
One of the shortcomings with the free DAWs I posted about last month is that most don't come with any kind of good drum software to use. Even full DAWs like Pro Tools don't come with good drum software (Boom isn't useful for much).
So for this post I wanted to point out Sennheiser DrumMic'a.
It's completely free to download and use, and you'll be absolutely shocked by how many features it offers and the sound quality for being free (see video below for a demo). It even has a bunch of MIDI drum loops included.
The only catch is you have to setup an account and register to get the free serial number. That's normally not an issue but the website is in German and for some reason Google Translate doesn't work on it so you have to guess your way through the registration process unless you read German.
Plus the download file is several GBs in size so it can take a really long time to download.
Since I already have EZdrummer 2 I'm not going to go through all that trouble just to try it out, even though it does look like fun to test, but if you don't have any drum software and don't want to spend a bunch of cash DrumMic'a is a good option to have if you need it.
Drums are the backbone of most songs; it's pretty hard to write music without drums. Even just practicing guitar is a lot more satisfying playing along with drums instead of a boring click track.
To use DrumMic'a you also have to download and install the free version of Kontakt 5 Player if you don't already have Kontakt.
Download Sennheiser DrumMic'a!
Review Of Sennheiser DrumMic'a!