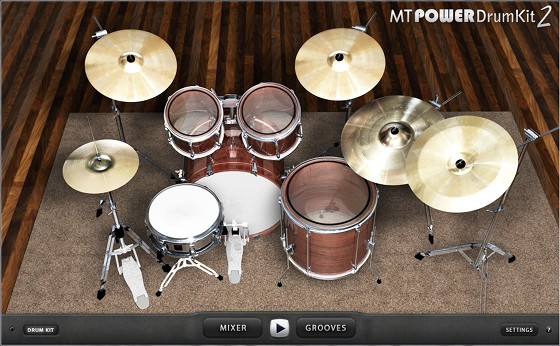 I recently came across an exceptional free drum kit plugin called MT Power Drum Kit 2. It was once a paid plugin for $39 but now it's free, and it's easily one of the best free plugins out there.
I'm a big fan of EZdrummer 2, but the MT Power Drum Kit can hold its own if you don't have any money to spend, especially considering the fact that EZdrummer costs $150 (if I'd known such a good free alternative existed a year ago I would've put that purchase off for awhile…).
Obviously the MT Power Drum Kit doesn't have all the features as EZdrummer.
You can't change various cymbals and different kits, but it does have a built-in mixer with compressors on each channel.
Even better, it includes a bunch of high-quality MIDI grooves that you use to create some very realistic sounding beats, including full songs. You can also use samples from other plugins and use a DAW to further customize the sound.
The MT Power Drum Kit 2 is available in VST and AU formats, and it comes in 32 and 64 bit versions.
The first time you open the plugin it will display a code that you have to enter on the power kit website to generate an activation key.
They also have some MIDI mapping presets available on the downloads page to use the plugin with a drum sampler. Compatible presets include Superior Drummer, EZdrummer, Addictive Drums, Studio Drummer, and others.
MT Power Drum Kit 2 Video Demo