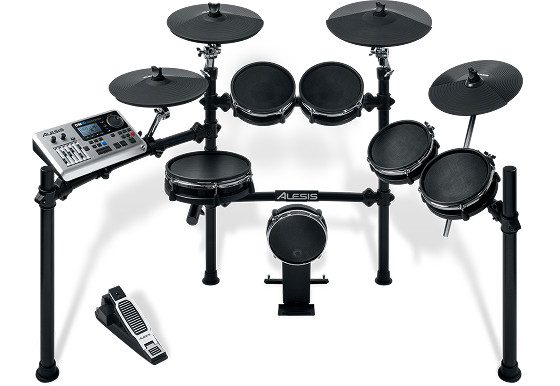 A few months back I bought an Alesis DM10 drum kit, my first electronic drum set. It has turned out to be a really cool drum kit so I wanted to put together a review and a video demo.
There are a few different versions of the Alesis DM10 drum set.
Some models have mylar heads and some have mesh heads. The mesh heads are quieter but the mylar heads feel more like playing acoustic drums, apparently.
Another difference is there are two different size kits.
The "studio" versions have 8″ toms, a 10″ snare, 12″ crashes, and a 14″ ride whereas the "X" versions of the DM10 kit have larger 10″ and 12″ toms (2 each), a 12″ snare, 14″ crashes, and a 16″ ride. Plus it has a chrome upgrade for the rack and adds a stand for the snare.
For this review I'm reviewing the Alesis DM10 Studio Mesh Kit specifically, but they all have the same DM10 module and basically function the same.
The upgraded DM10X kits have larger cymbals and pads, but the larger cymbals don't really serve any purpose on an electronic drum set, and once you get used to the smaller toms on the studio version there's really no need for the larger ones so either setup is equally functional.
Alesis DM10 Review
Pros
Quiet. I don't think most people realize just how incredibly loud acoustic drums are, especially these poor folks who are buying them for their kids to play. An electronic kit is ten times better for at home use. You can play it day or night using headphones without disturbing anyone or damaging your ears. It got to the point where I didn't even play my acoustic set for six months straight because I hated how loud it was—I didn't like how my ears were ringing after playing every time and I was always having to try and hit the bass drum lightly because you can hear it half a block away. Now I can play the electronic kit every day with no issues. Having a volume dial is a huge plus.
Good Build Quality. The mesh heads have a nice tight feel and the material is holding up really well. The heads show virtually no wear after 4 months of daily beatings (pardon the pun), which isn't something you could say about acoustic drum heads. Overall the kit feels solid for an electronic kit. The DM10 does move around a bit more than an acoustic kit when you're playing hard, but it's a lot more stable than most electronic sets, which are notoriously rickety by nature.
Endless Possibilities. The great thing about an electronic kit is that it can be easily connected to a computer for recording and interacting with all kinds of drum software programs. Some of the included drum kits are nice but I can get better sounds using the DM10 with EZdrummer and Ableton Live 9's included drum kits.
Lots of Triggers. There are 17 total triggers, and each can have it's own unique sound at one time. The snare and toms all have dual triggers to allow a secondary sound to be set on the rim, which is good for adding more cymbals or effects. The ride cymbal has three zones, each with its own separate trigger section to help make the cymbal sound more realistic.
Cons
Confusing Interface. There are so many settings and adjustable parameters with the DM10 module that it can be downright confusing at times. Even when you know what you want to change it can be hard to find where the setting is located. The interface isn't very intuitive and takes considerable time to figure out.
Hi-hat. The hi-hit control isn't as precise as it could be. It's inconsistent with splash and closed sounds, and sometimes the sound cuts out too abruptly. After adjusting a number of settings I haven't come across the magical combination yet. Oddly the hi-hat control works much better with EZdrummer. It sounds and feels more natural all around and it's consistent with splash and closed sounds.
Presets Aren't Great. Maybe it's just me but I don't really care for most of the presets. Most need tweaking to get a good sound. For example, the "studio" preset (demoed at the very beginning and the end of the video) is one of the better kits but the snare sounds awful by default and has to be manually changed. Quite frankly a lot of the included sounds aren't very good when compared to specialized drum software.
Verdict
I'm really glad I decided to get the Alesis DM10. It has turned out to be way more fun and functional than I expected. Before I got it I didn't really understand all the benefits of an electronic kit. I had no idea how capable and versatile they have become over the years.
Initially I just wanted something cheap to trigger sounds using software programs, like the Behringer XD80USB, but I needed a double kick bass pad and a second crash cymbal, and at $100 each (at least), it seemed wiser to just pay a little more for the Alesis DM10 with the better mesh heads and better all around setup.
Once you get used to them, playing drums on the DM10 feels a lot like playing drums on a "real" acoustic set of drums, and they sound surprisingly like the real thing too.
Except you're not just stuck with one set of drum sounds with an electronic kit. There are 100 kits preloaded and you can create another 100 of your own to add to the presets. And it doesn't end there either. You can interface with third-party software programs and create even more drum sets. You can design your kit for rock, jazz, metal, country, dance, R&B, blues—anything.
You can plug the kit directly into a PA system for playing live, or you can use amps, studio monitors, or headphones. It's surprising how many more things you can do with an electronic kit than an acoustic kit, and if you want to use different cymbals, for instance, you just hit a few buttons to swap them out. That's a heck of a lot better than having to spend $500 to buy new cymbals.
Alesis DM10 Studio Mesh Kit Specs
10″ mesh snare, dual zone.
4 x 8″ mesh toms, each dual zone.
8″ kick pad with steel stand, velcro strip, and spikes to hold it in place.
12″ hi-hat cymbal and hi-hat pedal.
14″ ride cymbal with three zones.
2 x 12″ crash cymbals, one has a choke.
DM10 module with 100 included preset drum kits, effects, mixer, recorder, and thousands of settings and customizable parameters.
12 trigger inputs on module (11 are used with the included gear so there's one extra).
RCA inputs.
Outputs: 2 x 1/4″ Aux, 2 x 1/4″ Main, 1 x 1/4″ Headphones.
MIDI in and out ports.
USB port to connect to a computer to use software like EZdrummer or Ableton Live's drum racks.
Price: $899 at Amazon.
Alesis DM10 Drum Kit Video Review