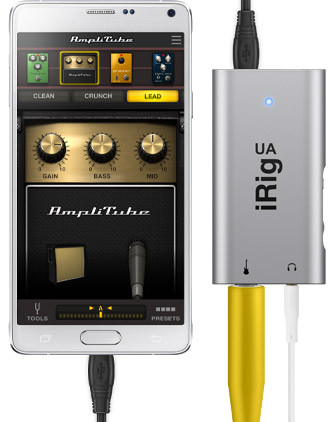 The iRig UA is a portable audio interface designed specifically for electric guitars and basses.
The iRig UA works with Android smartphones and tablets with USB/OTG support that run Android 4.2 and up.
The interface also works with Mac and PC computers so you can use it with the desktop version of Amplitube as well as other guitar and audio programs (however, I'd recommend using a better audio interface for computer setups).
There are a bunch of other iRig devices too so it can all get a bit confusing. Some only support iOS devices and others only work with Android.
The iRig UA is a general-purpose Android interface. It works with a wide selection of Android devices whereas the iRig HD-A only works with Android devices that support Samsung Professional Audio.
See this iRig UA vs iRig HD-A comparison for more details and to determine if your device supports Samsung Professional Audio or not.
One of the differences with the iRig UA is there's a special version of the Amplitube app designed exclusively for it called Amplitube UA.
To help make up for some of Android's shortcomings when it comes to audio, the iRig UA processes everything internally instead of on your Android device. That's the reason why Amplitube UA only works with the iRig UA and not other iRig devices, and vice versa. It also helps lower latency down to around 2 ms so any delay is virtually unnoticeable.
iRig UA Video Review and Sound Tests
The iRig UA app comes with a decent amount of free gear, including 9 stompboxes, 5 amps, 5 cabinets, and 2 mics. The free gear actually sounds pretty good, better than I'd expected.
You can get nice clean sounds, some good solo and mid-gain tones as well, but I struggle to find good rhythm metal sounds with the free gear.
Plus it tends to have a thinner sound than I'm used to when using a regular audio interface with Amplitube 4, like it's on the bridge pickup of the guitar when it's set at the neck position. You can kind of work around it by adjusting the knobs and settings but I find that the desktop version of Amplitube sounds better.
You can certainly get some better sounds with the paid amps and effects but at $5-$10 each I refuse to buy any because I feel like they are too overpriced for something that can only be used withing the UA app, which doesn't even allow recording unless you have a Samsung Pro Audio device, at which point you'd be better off buying the cheaper iRig HD-A and using the specialized Samsung Amplitube app anyway.
The description is a bit misleading because it states that the iRig UA supports digital audio recording on Android 5.0, but that's only true with Samsung Pro Audio Devices, and those are few and far between.
Another thing that bugs me is the fact that the Amplitube UA app hasn't been updated in over a year. In all that time they haven't bothered to fix the broken auto setting on the wah pedal, so it doesn't look like the app is going to get much attention from IK's developers moving forward.
The final thing I'm going to complain about is the disappointing build quality for a $99 product. It feels like cheap plastic that's not going to last. For the exact same price you can get something like a Focusrite Scarlett Solo with a metal body, an added mic input, speaker outputs, and better sound quality, among other upgrades. Granted it doesn't work with Android devices, as most audio interfaces don't, so obviously devices like the iRig fill a specific need.
It would make a lot more sense for the price to be around $50 at most. In fact some retailers like Amazon do sell the iRig UA for $59 instead of $99 like from IK's online store, but the cheaper ones don't list the same free software or free gear credits so that may be the reason for the price difference (who knows…).
Now that I've got the negatives out of the way, there are some good things to say. The iRig UA does have it's own unique charm. The free amps in the app don't sound as good as the other amp sims that I'm used to but that doesn't stop me from still having a lot of fun using the app and jamming out for hours.
I can see how it would be a lot of fun to use when you're away from the house and need a quick and easy way to play guitar. I would've loved to have something easily portable like this with a whole bunch of different amp sounds and effects when I was a teenager.
iRig UA Review Conclusion
Pros
Small and lightweight, very portable.
Surprisingly good sound quality with the included free gear.
Low latency (2 ms).
Bonus items include Amplitube Metal, 25 Gear Credits for Amplitube Custom Shop and T-RackS Classic for Mac/PC (and free Amplitube 4 Deluxe through July).
Cons
Can't test the paid add-on gear before buying, and the gear is rather expensive for stuff that can only be used within the Android app.
Difficult to record unless you have a device that supports Samsung Professional Audio.
Have to use ASIO4all to use it with a PC—a pain to work with and a half-assed solution at best.
Disappointing build quality for $99, feels like a cheap plastic toy.
Verdict
The iRig UA works well as a portable guitar interface for Android devices to practice and come up with song ideas on the go, and the included sounds are surprisingly good, but there are better options available in the same price range for recording guitars, playing live, and working with computer programs such as the desktop version of Amplitube. If you need portability and Android support, the iRig UA is a good choice, but for anything else you're better off just getting a regular audio interface.