Here's a list of some of the best audio interfaces to get for playing and recording guitars through a Mac or PC computer.
This is more of a "starter" list for home studio recording than a "best of" list covering every possible scenario. Obviously some professional audio interfaces sell for several thousand dollars, but you don't need something with a gazillion inputs and outputs if you're just recording a direct input guitar signal or a mic'd amp.
Last year when I first started getting into home recording, I had no idea what exactly was required to play and record guitars using a computer.
It turns out the #1 most important thing to start with is an audio interface.
An audio interface lets you connect guitars and microphones to a computer via USB or Firewire, and there are some PCI and thunderbolt interfaces as well.
USB audio interfaces have become the most common in recent years, and they're also quite affordable.
You definitely want to get a proper audio interface for recording and monitoring because a computer's sound card and line input aren't nearly good enough. You need something with a proper Hi-Z input for guitars.
You can get a cheap Behringer interface for as little as $30. But you're better off buying something better from the get-go because an audio interface is an integral part of audio production.
A number of brands have problems running at low latency and that's a problem because it's very important to avoid any extra delay when it comes to recording guitars. The 2nd gen Scarlett interfaces are the best low cost interfaces with low latency.
A $99 Scarlett Solo is going to be a good entry-level interface at the very minimum. If you can afford to spend a little bit more, in the $250 range, you can get something with more inputs and outputs and some extra features like the Roland QuadCapture.
If money is no object just save yourself the trouble and get an RME audio interface. Many consider RME's interfaces "the best" when it comes to recording guitars, with super low latency, reliable drivers, and crystal clear output. However, RME stuff isn't cheap. Their entry-level model, the Babyface Pro, sells for $750.
You can also use a DI box to connect a guitar to a computer, like the Radial Pro48, but that's only part of the equation because an audio interface is still needed. DI boxes are nice for getting a clearer sound and for splitting signals (like listening through an amp while DI recording on a computer), but they aren't required.
If you're getting an audio interface for playing and recording guitar with a computer, you're also going to need a set of studio monitors or a good pair of headphones. Plus here's a list of some of the best free and paid guitar amp sims to get started.
Best Guitar Audio Interfaces
RME Babyface Pro Audio Interface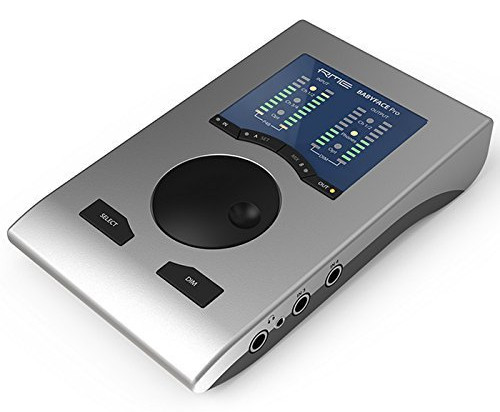 The RME Babyface Pro is widely regarded by professionals that know what they are talking about as one of the best portable audio interfaces currently available for guitars. I wouldn't know because I'm neither rich nor a professional but I'd suggest looking into it if you want a high-end audio interface because people rave about RME. 🙂
Quality: up to 24-bit, 192 kHz
I/O: 12 x 12
Other: four analog inputs, four analog outs, ADAT/SPDIF, MIDI port, 48V phantom power, relay-driven PAD, low latency AD/DA converters.
Included Software: TotalMix software, with some included effects, available for Windows, Mac OS X, and iOS.
Price: $749
Focusrite Scarlett 2i2 USB Audio Interface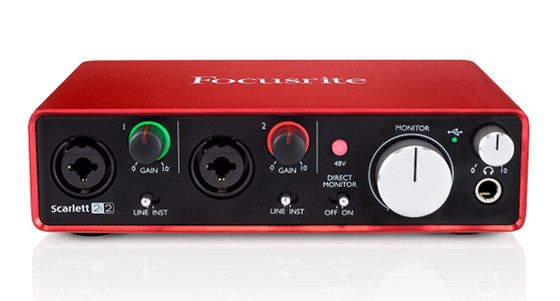 The Focusrite Scarlett 2i2 is a really good mid-level audio interface for recording guitars and vocals. The signal is very clear, it has solid build quality, and it comes with a good software bundle. You want to avoid the 1st gen 2i2 and Solo units for guitars because they don't have enough headroom for active/hot pickups; the 2i4 and higher up models add a pad button to remedy this and the 2nd gen Scarlett models have 8dB extra headroom so it's not a problem anymore with them.
Quality: up to 24-bit, 192 kHz
I/O: 2 x 2
Other: Dual XLR/TRS connectors, phantom power, direct monitor, halo light indicators, low latency.
Included Software: Pro Tools First Focusrite Creative Pack with 12 stompbox pedals and Ableton Live Lite 9, Focusrite Control, Softube Time and Tone Bundle, Focusrite's Red Plug-in Suite, 2GB of Loopmasters samples.
Price: $149
See my Focusrite Scarlett 2i2 review for more information and a video demo.
Steinberg UR22MKII 2-Channel USB Interface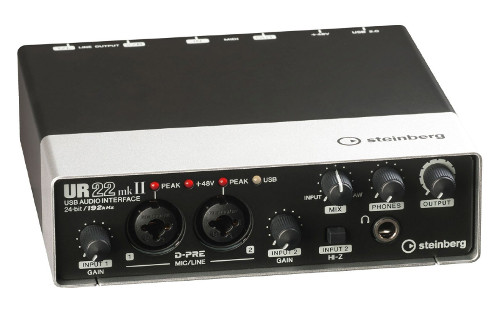 The Steinberg UR22MKII is another popular model in the "affordable" category for beginners. Steinberg interfaces have a solid reputation and a lot of positive reviews. Their drivers are known for being pretty good but the latency isn't quite as low as Focusrite's interfaces.
Quality: up to 24-bit, 192 kHz
I/O: 2 x 2
Other: 2 XLR/TRS connectors, MIDI in and out, Hi-Z switch for input 2, phantom power, compatibility with Windows, OS X and iPad.
Included Software: Cubase AI and Cubasis LE.
Price: $139
Behringer UCA202/UCA222 Audio Interface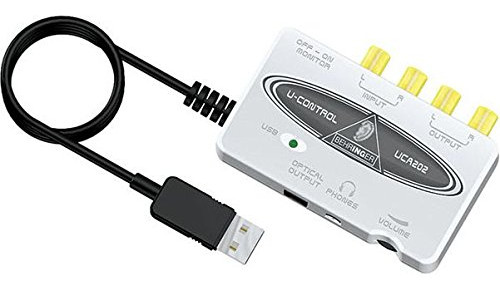 The Behringer UCA202 and the nearly identical red version with some extra software, the U-CONTROL UCA222, are among the least expensive audio interfaces that'll you find on the market capable of recording and playing guitar through a PC or Mac computer. One way to get started if you can't afford to spend $100 on something better.
Quality: up to 16-bit, 48 kHz
I/O: 2 x 2
Other: RCA inputs and outputs (need adapter to connect guitar), S/PDIF optical output, no drivers required.
Included Software: KRISTAL Audio Engine, Audacity, energyXT2.
Price: $29