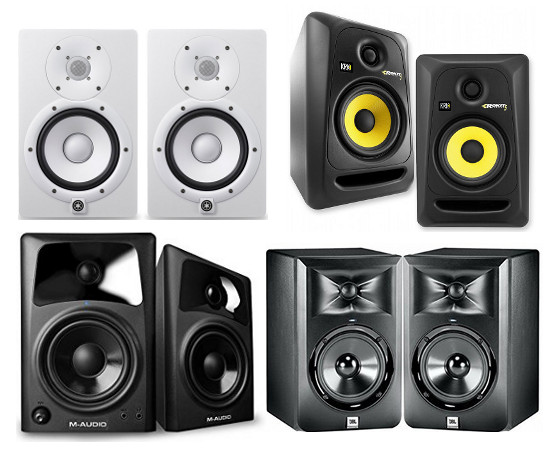 Most websites like to list the "Top 10" or the "Best" studio quality speakers that money can buy. They usually plug the more expensive brands and layout some technical mumbo jumbo why everything else is inferior.
Unless you just happen to have spare cash falling out of your arse, the best studio monitors aren't going to be a practical purchase for most people, especially for those that just want something good enough to get the job done with a simple home recording studio or a semi-pro setup.
Even upper mid-range studio monitors can cost upwards of a grand. To hell with that, I say.
Let's go in a different direction with this list and focus more on the best upper range of entry-level studio speakers currently on the market, speakers with a good combination of accurate sound and affordability.
If you really want to spend $8,000 for a pair of ATC SCM25A Pro studio monitors, go ahead. I won't stop you. You might as well get these $48,000 Diamond Glass Loudspeakers while you're at it.
Things to Consider When Buying
Sound Quality: If you've never heard studio monitor speakers before, they sound a lot different than regular stereo speakers in a car or home entertainment system. Most speakers, even very expensive ones, greatly exaggerate bass tones in particular, and generally muddy up the mix. Studio monitors are designed to sound as clear and as accurate as possible. They make every little detail audible, making it easy to distinguish every instrument, cymbal, and sound in the mix, both good and bad. Most studio speakers have much less bass than traditional speakers; if you really want deep bass tones you'll need to get a dedicated subwoofer.
Speaker Size: When it comes to studio speakers, larger isn't always better. There's no need for large speakers in a small room, and you don't want to blast them really loud anyway. Speakers with 4 and 5-inch woofers are a common size, and there are some good 6 and 8-inch models as well for some extra cash.
Frequency Range: When shopping for studio speakers, you'll often see specs listing the frequency response range, something like 85 Hz to 20 kHz. That describes what frequencies the speakers can emit at an audible level from the low end of the spectrum to the high end. Lower is better for the first number; higher is better for the second.
Extra Features: Some studio speakers have extra inputs and outputs, frequency adjustment knobs, bass boost, and some are built with stronger materials—all things to take into consideration.
Affordable Studio Monitors to Consider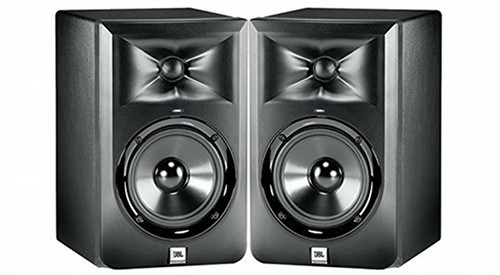 One of the most popular sets in the sub-$300 price range include the JBL LSR305 monitors. It's hard to find many complaints about these monitors. There are hundreds of four and five star reviews around the net. Update: I upgraded to these and they are very nice for the money. Highly-recommended.
Design: 2-way active studio monitors
Speaker size: 5-inch woofer
Tweeter: 1-inch damped woven composite Neodymium
Power: 41 watts per channel
Frequency response: 43 Hz – 24 kHz
Price: $280 pair, $145 single at Amazon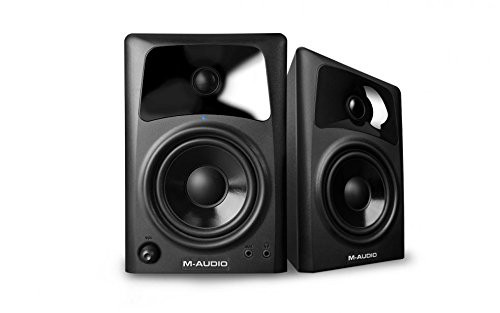 The M-Audio AV40 speakers have been the most affordable and most common entry-level studio speakers on the market for many years. An updated version was recently released, the M-Audio AV42 Studio Monitor Speakers. There's also the 3-inch model for $99, the M-Audio AV32s.
Design: 2-way desktop reference speaker
Speaker size: 4-inch woofer
Tweeter: 1-inch silk cone
Power: 20 watts continuous per channel
Frequency response range: 75 Hz – 20 kHz
Price: $149 (pair) at Amazon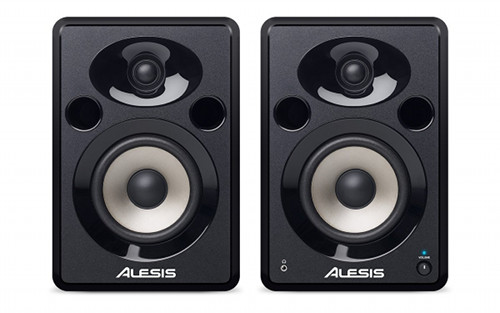 The Alesis Elevate 5 studio speakers are the next up in the budget category. The specs are a little better than the M-Audio speakers mentioned above, but they aren't nearly as well known and a few reviews complain about buzzing problems. I ended up taking a gamble on these and I really like them for the money. See my Alesis Elevate 5 review for more details. Everything sounds so crisp and clear, like the band is right there in front of you. I've had them for a few months, use them every day, and haven't had any problems so far. The only issue is the included connector cable that it comes with really sucks—expect to buy RCA cables if you don't have any laying around.
Design: 2-way active studio monitors
Speaker size: 5-inch woofer
Tweeter: 1-inch silk dome
Power: 40 watts per channel
Frequency response: 55 Hz – 20 kHz
Price: $149 (pair) at Amazon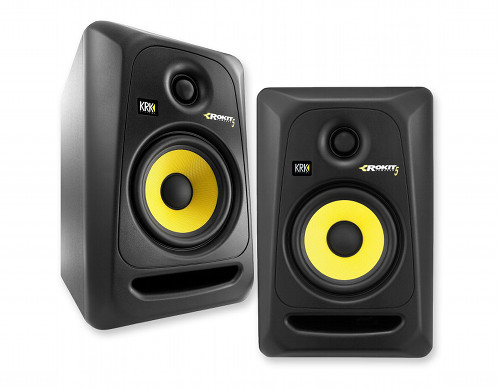 If you want to step up to the next level of speakers beyond the "budget" category, the KRK Rokit 5 G3 studio monitors are a popular choice with lots of positive reviews and a good strong reputation.
Design: 2-way active studio monitors
Speaker size: 5-inch Aramid Glass Composite woofer
Tweeter: 1-inch soft dome tweeter
Power: 50 watts (20W high, 30W low)
Frequency response: 45 Hz – 35 kHz
Price: $299 pair, $149 single at Amazon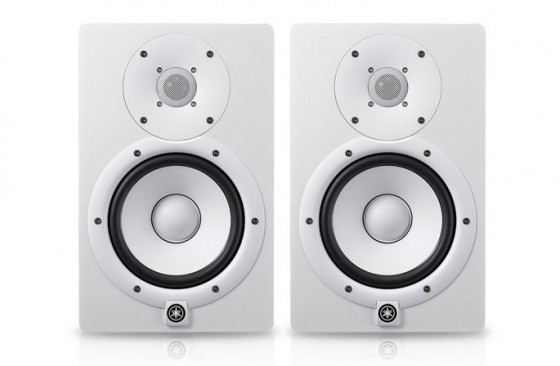 If you've got the money to spend, the Yamaha HS5 studio monitors are among the best mid-range speakers on the market. Everyone who hears Yamaha's HS5 speakers, and to a greater extent their larger HS8s, raves about them. Close to 90% of all published reviews online give these speakers 5 out of 5 stars. It's hard to argue with that.
Design: 2-way active studio monitors
Speaker size: 5-inch woofer
Tweeter: 1-inch dome
Power: 70 watts (45W LF plus 25W HF bi-amp)
Frequency response: 54Hz-30kHz
Price: $399 pair, $199 single at Amazon