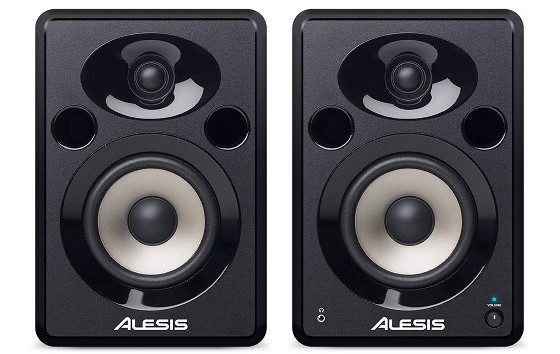 Last year I bought a pair of Alesis 5 Elevate studio speakers. I use them every day and they've held up well so I wanted to put together a quick review of them for other people that are looking to get an inexpensive set of studio monitors or just some good computer speakers for listening to music or video games.
I've reviewed a few different Alesis products, including the Alesis DM10 e-drum kit and a couple Alesis MIDI keyboards. I don't have any particular affinity for Alesis products. I just keep ending up with their gear because it's often the best value compared to some of the cheaper and more expensive stuff—middle of the road, that's how I roll.
At first I was considering getting some M-Audio AV42 studio speakers since they pretty much seem to be the de facto standard on the entry-level end of the scale, along with the smaller AV32s.
But after reading reviews there were a number of reports of them failing after a year when the warranty is up, so I started looking at other brands. Plus I wasn't sure if 4″ speakers would be big enough.
The Alesis Elevate 5 speakers are the same price as the AV42s so I decided to go with them instead.
I like the fact that the Elevate 5s have larger speakers and double the watts at 40 per channel.
You can connect them with regular TS cables or RCA cables so that's a bonus too since M-Audio speakers only have RCA jacks.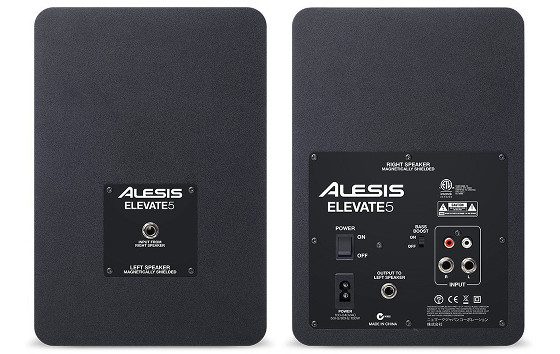 I was worried that they wouldn't be loud or powerful enough to use as a guitar amp with amp sims, but it turns out that's not a problem. They work well for that indeed, as long as you don't want the volume really loud, but for practicing and writing songs they are more than adequate.
The overall volume of the speakers is surprisingly loud, but they sound best at moderate levels. The balance of the sound starts to go awry at higher volumes and the clarity becomes muddy.
The Elevate 5 speakers sound their best when you are a few feet away from them. Further away they quickly start to lose clarity and high-end details get buried.
When I first got the Elevate 5 speakers I was pleasantly surprised by how good they sounded. Everything is so crisp and clear, like the band is right there in front of you. They sound so much better than 90% of car stereos and dedicated stereo systems that add a ton of extra bass.
There's also a bass boost switch on the back of the Alesis monitors but it doesn't sound natural to me—it muddies the frequencies up too much. The speakers sound much more balanced with the bass boost turned off, but it is kind of nice to have on at lower volumes and in certain situations like with some games or movies.
Alesis Elevate 5 Quick Review
Pros
Versatile speakers: work well for listening to music and jamming on guitar with amp sims, entry-level mixing, and also good for video games, computer speakers, TV speakers, etc.
They have a very clear, accurate sound at moderate volume levels.
No unwanted noise or hum (unless you use RCA cables; I do get a bit of low level static with those).
Holding up well (I've been using them an average of at least 8 hours per day for the past year).
Cons
Sound loses clarity at higher volume levels and the farther away you get from the speakers.
Few controls, no boosting or cutting frequencies.
The included cables are crappy; better to upgrade those right out of the box.
Verdict
If you're looking for some good inexpensive studio speakers, or some gaming or computer speakers, the Alesis Elevate 5 monitors are a solid option. I use mine for everything from playing guitar and making music, to watching movies and playing video games, not to mention listening to music while working every day.
Obviously at $149 for a pair they aren't going to stand up to any kind of high quality studio monitors but for entry-level monitors and for good-sounding speakers they are a reliable option for the price.
Alesis Elevate 5 Specs
5-inch woofer
1-inch silk dome tweeter
Output Power: 40 Watts x 2
Frequency response: 55 Hz – 20 kHz
Magnetically shielded
Elliptical waveguides minimize reflection and widen listening area
1/4″ inputs
RCA inputs
3.5 mm headphone jack
Bass boost switch
Dimensions: 8.7″ x 7.25″ x 10.6″ (221 mm x 184 mm x 269 mm)
Weight: 12.5 pounds