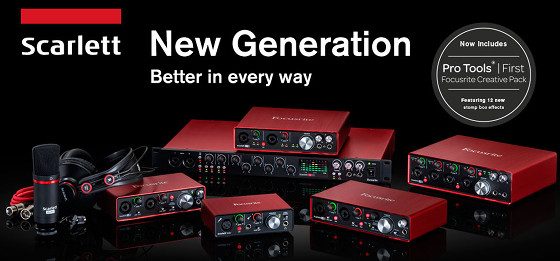 Focusrite has released new updated versions of their popular Scarlett range of USB audio interfaces. The second generation Scarlett interfaces retain the same names, the same prices, and same input and output options as the first gen line.
The new models have some hardware upgrades, with improved mic preamps that feature a more even gain structure and upgraded instrument inputs with added headroom for recording guitars with hot pickups, which was a big problem with the 1st gen Focusrite 2i2 and Solo units particularly.
The new models add support for higher sample rates as well, up to 192 kHz (the 1st gen units top out at 96 kHz).
Focusrite also boasts new "super-low" latency capabilities on their 2nd gen Scarlett interfaces.
They claim latency as low as 2.74ms roundtrip at a setting of 96 kHz and a 32 sample rate using a specific setup with Logic Pro X.
By comparison, I'm currently getting 9.5ms with Ableton Live 9 using the first gen Focusrite 2i4 at the highest setting, 96 kHz and 128 samples.
I ordered the new 2nd gen Scarlett 2i2 and will post a review soon with some latency tests and guitar samples, along with a comparison between the 1st gen 2i4 (I was just about to post a review of it and now I'm glad I didn't waste the time putting together a review of an outdated model—sometimes procrastination is a good thing).
There are a couple of visual changes with the newer models that make them distinguishable from the original line. The new ones have red lines on the knobs so it makes it easier to see the level, and the monitor and headphone knobs appear to be metal instead of plastic.
The new models come with the added bonus of a Pro Tools First Focusrite Creative Pack, along with the other software perks, which includes Ableton Live 9 Lite, Focusrite Control, Softube Time and Tone Bundle, Focusrite's Red Plug-in Suite, and 2GB of Loopmasters samples.
The full range of Focusrite Scarlett models were released on June 1st and are available from retailers now. There are six new models in total, with some bundle packages available as well.
2nd Gen Focusrite Scarlett Models
Scarlett Solo – $99.99 MSRP
Scarlett 2i2 – $149.99 MSRP
Scarlett 2i4 – $199.99 MSRP
Scarlett 6i6 – $249.99 MSRP
Scarlett 18i8 – $349.99 MSRP
Scarlett 18i20 – $499.99 MSRP
Focusrite 2nd Generation Scarlett Range