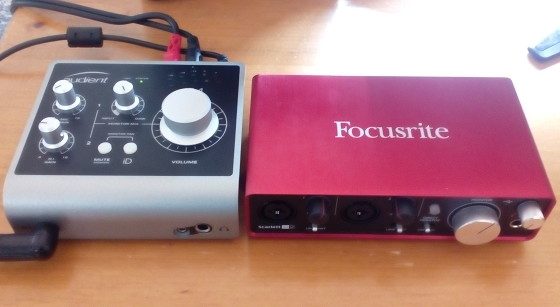 Below is a list comparing the overall latency numbers between the Audient iD4 and the 1st and 2nd generation Focusrite Scarlett interfaces on a Windows 7 computer.
Over the past couple of months Focusrite and Audient have both released new USB audio interfaces.
Audient released the iD4 and Focusrite released 2nd generation Scarlett interfaces, which includes six different models with varying levels of inputs and outputs.
Last month I posted a review of the 2nd gen Scarlett 2i2, along with a comparison review between the 1st gen 2i4.
The 2nd gen 2i2 has incredibly low latency, and the unit itself it quite nice, but the Windows drivers have a few bugs that still need to be worked out, so that's why I got the Audient iD4 to try.
I'll post a comparison review and video showing them both next week, but for this article let's just focus on the latency differences between them.
Here's a list of the overall latency numbers according to Ableton Live 9 using a Windows 7 64-bit computer.
Audient iD4 – Overall Latency
Audient does things differently than Focusrite when it comes to latency and buffer size settings. They have 6 separate settings for latency modes, and each has a different minimum buffer size setting:
Windows Latency Modes
Minimum
Low
Standard
Relaxed
Safe
Extra Safe
These are the lowest latency numbers using the Minimum setting:
4.9 ms at 44kHz/64 samples
4.67 ms at 48kHz/64 samples
4.9 ms at 88kHz/128 samples
4.67 ms at 96kHz/128 samples
However, the Audient iD4 won't work when using the Minimum latency setting on my computer; it crackles constantly even at 0% CPU load, so those numbers are irrelevant to me.
The Low latency setting works well on my PC so these are the latency numbers for it at the lowest buffer size settings:
9.8 ms at 44kHz/128 samples
9.33 ms at 48kHz/128 samples
9.8 ms at 88kHz/256 samples
9.33 ms at 96kHz/256 samples
Note: The settings above work fine under a heavy load with Pro Tools 12 but for some reason I get some crackling with Ableton Live 9 when using these setting so I'm trying to figure that out. It runs smoothly in Ableton at 48kHz/256 but the latency is 14.7 ms, and that's higher than what I can get with the 1st gen 2i4…
Focusrite Scarlett 2i4 (1st Gen) – Overall Latency
The great thing about the 1st gen 2i4 is the drivers work so well that I can run it at these highest settings below all the time even up to 90% CPU without the slightest issue.
13.5 ms at 44kHz/64 samples
12.4 ms at 48kHz/64 samples
10.4 ms at 88kHz/128 samples
9.5 ms at 96kHz/128 samples
Focusrite Scarlett 2i2 (2nd Gen) – Overall Latency
The 2nd gen Scarlett interfaces support higher sample rates than the 1st gen models and the Audient iD4.
The highest settings on the 2nd gen 2i2:
5.31 ms at 44kHz/32 samples
5.17 ms at 48kHz/32 samples
3.85 ms at 88kHz/32 samples
3.63 ms at 96kHz/32 samples
3.08 ms at 176kHz/32 samples
3.06 ms at 192kHz/32 samples
Unlike the Audient iD4, the 2nd gen 2i2 runs fine without crackling at the highest settings so those numbers are doable with my computer. However, the CPU hit at those settings is considerable, so I usually track guitars and my Alesis e-drums at 64 samples with 7.8 ms of latency and that works very well.