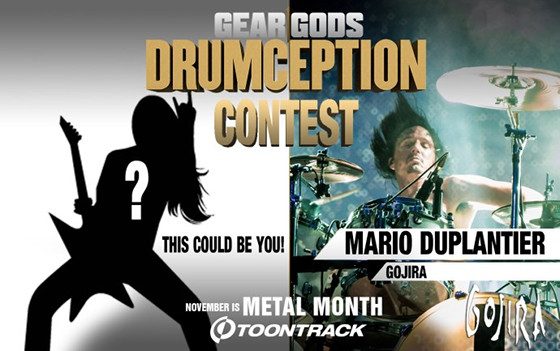 A couple weeks ago I posted about the Toontrack Drumception Contest when the new Rythme Sauvage MIDI pack for EZdrummer was released.
The contest involved recording an original song over a drum track performed by Mario Duplantier of Gojira.
Normally I'm not much of a self-promoter but I decided ahead of time to post my entry here because I knew that doing so would force me to work on it harder.
I got into recording guitar at home on my computer last year, the same time I started this website, and I have a couple dozen rough drafts and pieces of songs started, but this is the first song that I've actually "finished".
Mixing definitely isn't a skill that I've developed yet so I've got a lot to learn there, especially when it comes to bass, but at least it's a start. The only reason the song sounds halfway decent is because of the Master EQ 432 that I got from IK for $20 (plus credits) a couple weeks ago when it was on sale.
For the rhythm guitars on this track I used a combination of the Thermionik Duality 3ch and the Dual Rectifier in Amplitube 4.
The lead guitars use the Engl lead amp in the new bx_V3 player, with STA delay for added effect on one guitar (the lead guitars play the same tapping lick at different octaves).
I still don't know what the hell I'm doing on bass. It's mostly just DI and EQ. I can't get distorted bass to sit right, like most of the YouTube tutorials suggest having with metal songs.
I used the Focusrite 2i2 that I reviewed this summer to record all the guitars, of course, and the guitar used for recording was an Ibanez RGA 121.
Feel free to ask any questions in the comments section, and don't be afraid to offer constructive criticism. 😀