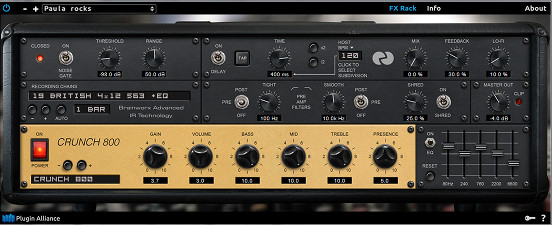 Plugin Alliance has released some new Brainworx pedal plugins and they've updated their amp sim package with a new V3 collection. They claim that the amp sims have been completely overhauled to improve workflow, lower CPU usage, and increase sound quality.
The new bx_rockrack V3 collection includes what they call eight amp models but it's actually simulations of four amps using different channels.
The amp models are based on the Marshall JCM 800, the ENGL 530, and the Mesa Boogie Rect-O-Verb. There's also the Metal BX 666, an original Brainworx amp sim.
The V3 collection includes 40 impulse responses as well, along with an onboard noise gate, an EQ, a vintage delay, and shaping filter effects.
There's also a new Brainworx preset player plugin that is free to download and use (it just requires setting up an account with Plugin Alliance). It includes a number of presets for the new amps.
The presets are locked in the free version so you can't change any of the parameters aside from the volume but it's a good way to get an idea of what the paid amps sound like.
Plus if you don't like the tone on the free presets all you've got to do is get creative with EQing and adding other pre and post plugins.
In addition to the updated amp collection and free V3 player, there are two new pedal plugins as well.
There's the Brainworx bx_metal2 plugin, which is based on the Boss MT-2 stomp box. And the Brainworx bx_blackdist2, based on the ProCo Sound RAT 2 pedal. Both pedals sell for $49 each.
Like other Plugin Alliance plugins these have a 14-day demo period so you can fully test them.
The price of the new Brainworx V3 collection is $199. However, owners of the bx_rockrack PRO can upgrade to V3 for $29. Plus they're running a promotion through the end of October where anyone who activates the free V3 Player can upgrade to the full V3 collection for $79! Use code CSrockrackV3 for the discount.
3 New Brainworx Guitar Plugins Demo