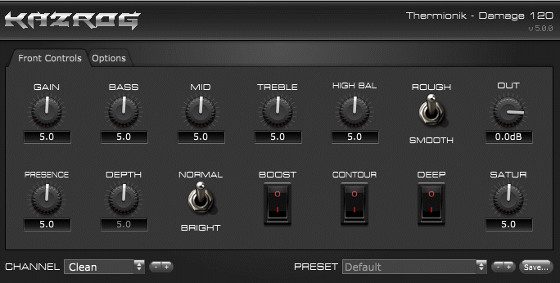 Kazrog's Thermionik amp sims are among the best and most realistic-sounding amp sims available on the market, and they just got more affordable.
They were already one of the less expensive options and now the prices are even lower. You can get an amp sim for as little as $8.99, and it works out even less for bundles.
Currently there are 25 different amp models available, including simulations of Fender, Mesa Boogie, Marshall, and other amp brands.
The price drop extends to Kazrog's other guitar products as well, namely Recabinet 5, an IR loader, along with IR libraries to use with it.
The amp bundles are now $35 each for a pack of 5 amps instead of $50 and the full package for all 25 amps sells for $149.
You can also create a custom amp bundle just by selecting 5 individual amp models and the price will automatically change to the lower bundle price of $7 each.
Additionally, if you own Recabinet 4 you can use loyalty code E44F5A52 for an extra 40% off—that's an insanely good deal.