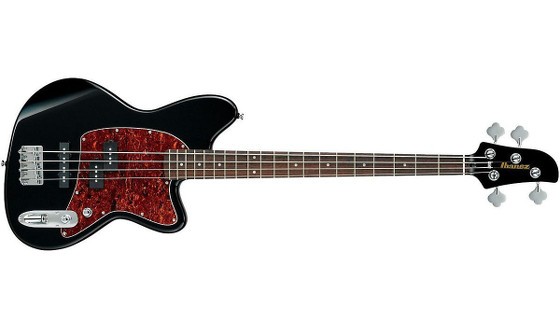 Review Date: March 2016 – Review unit purchased from Sweetwater
Overview
Ibanez introduced their new Talman Bass series, the TMB-100 and TMB-300, in early 2015. Then they recently released a short scale version for $179, along with some fancier more expensive models, including some new 5-string options.
One thing that's a bit confusing about these guitars is they require using a 9v battery like you'd generally find with active pickups, but these pickups are actually passive.
The battery is for an active EQ, which lets you boost and cut the treble and bass with two tone knobs. You still have to make sure to keep the bass unplugged when not in use or it will drain the battery like when using active pickups.
It's also worth noting that the Talman basses come in variety colors, not just the black one shown in this review.
Ibanez TMB-100 Review
Pros
Super Cheap. At $199, the TMB-100 is about as cheap as it gets for a full scale bass guitar.
Active EQ. The 2-band active EQ gives you lots of control over what type of tone you want.
Nice Neck. The neck and fretboard are surprisingly nice for a $200 guitar. It feels great to play, very smooth. Plus it stays in tune well and has good intonation.
Good Sound. I like the wide range of sounds you can get with the pickups and tone controls, everything from punchy deep lows to clear cutting notes and harmonics.
Cons
Needs Setup. The TMB-100 needs a good setup to get started; mine had a lot of fret buzz out-of-the-box because the saddles were too low and the neck needed to be tweaked to properly align the strings—both easy fixes though.
Knobs. The knobs (pots) work fine now but they seem like they could be a weak point down the road. They are a bit too loose feeling, and the tone knob sits higher, about an eighth of an inch, off the surface, which is kind of unsightly.
Inconsistent Volume Levels. You basically just have to set the knobs and play because any kind of adjustment has a huge impact on overall volume. Boosting the EQ tone knobs increases the volume considerably, plus the neck pickup is noticeably louder than the bridge pickup.
Verdict
Once I started getting into home recording it became quickly apparent that using a keyboard and software to play bass wasn't going to cut it, so I was looking to get a cheap bass guitar for under $200 to use for DI recording.
At first I was set to get a Squier Vintage Modified Jaguar Bass, as that seems to be the industry standard for a good entry-level bass guitar. But then I came across a sale on the the Ibanez Talman TMB-100 for $179 and decided to go with it instead.
At first I was nervous about what kind of quality to expect for such an inexpensive guitar. I once had a cheap Ibanez Gio guitar that was a piece of junk, so I was glad to see the quality on the TMB-100 to be much better. I find it absolutely amazing the quality of guitars you can get for under $200 these days.
I only use the TMB-100 for DI recording, coupled with bass amp sims, and it has worked well for that purpose. I have no complaints with it after getting it setup. It sounds great and plays smooth, and I like the wide range of tones you can get by tweaking the knobs.
I'm probably going to put some heavier strings on and drop it down to BEAD tuning so I'll post an update later after seeing how it handles that.
One thing to note, I've been playing guitar for a couple of decades, but this is my first bass guitar. The first thing that jumped out to me was how much bigger and heavier a bass guitar is than a regular guitar, and how much longer the neck is. If that's a concern for you, you may consider getting a short scale model. They are smaller overall but still have the same number of frets.
Ibanez TMB100 Bass Specs
Neck: TMB4 Maple neck.
Body: Mahogany.
Rosewood fretboard w/ dot inlay.
Medium frets.
20 frets.
Standard bridge with 19mm string spacing.
Neck pickup: Dynamix P neck pickup (Passive).
Bridge pickup: Dynamix J bridge pickup (Passive).
Ibanez Custom Electronics 2-band EQ.
34″ scale (864mm).
Controls: 1 Volume/Pickup Selector, 1 Treble/Bass Boost/Cut.
Tortoise shell pickguard.
Colors available: black, coral red, ivory, mint green, transparent red, tri fade burst.
Price: $199 at Amazon.
Related Articles
Best Bass Guitars for Under $200
Best Free Bass Amp Sims
Ibanez TMB100 Talman Bass Video Review