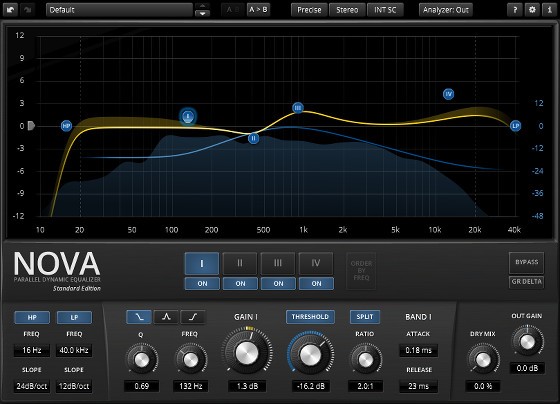 Awhile back I posted about a really awesome free dynamic EQ plugin called TDR Nova from Tokyo Dawn Records.
It's one of the most impressive free plugins around. It has a bunch of useful features and it sounds exceptional. It's available in VST, AU, and AAX formats in both 32 and 64 bit.
TDR recently posted a very detailed YouTube video that explains all the features of their Nova plugin and shows how everything works.
The video covers both the free and paid versions of the plugin in depth (it's 16 minutes long). There are a bunch of helpful tips and tricks for using the plugin that you'd never know about without watching the video.
The free version of Nova has four EQ bands, high and lowpass filters, a spectrum analyzer, it supports sidechain EQing, multi-band and wideband compression, there's a preset manager, undo/redo functions, and more.
There's also an upgraded paid version, Nova GE (Gentleman's Edition), that adds 2 more bands, steeper filters, a higher quality mode, automatic equal loudness control, and some other additional features.
You can also find more information about how the plugin works from the PDF user manual.
NOVA and NOVA GE Video Tutorial