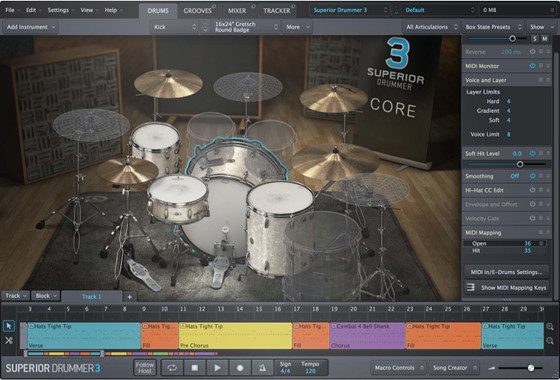 It's finally happened. Toontrack is going to release Superior Drummer 3 on September 12th (that explains all the recent sales on SD2).
People have been waiting for an update for a really long time. It's been nine years since Superior Drummer 2.0 was first released—that's like a century in software years, but it's still one of the more popular drum plugins.
SD3 is completely new from the ground up; it's not just an updated version of SD2. It looks more like EZdrummer 2 and has some of its feature and a whole lot more.
The most amazing thing about Superior Drummer 3 is that it has a 230 GB sound library. It's so big they are giving customers the option to buy it pre-installed on a solid-state drive!
Some of the new features with SD3 include a new workflow, drum audio to MIDI conversion, it comes with 6 kits, it has a scalable interface with detachable windows, it includes 35 mixer effects, it comes with an "extensive" MIDI library and a pool of electronic drum sounds. It has the Tap2Find, Song Creator and Song Track features as well, along a built-in MIDI grid editor.
It also works with earlier EZdrummer and Superior Drummer expansion packs.
The price is listed at $399, that's $100 more than SD2, but owners of Superior Drummer 2 qualify for a 50% discount and owners of EZdrummer 2 get 25% off. Toontrack always charges more for some reason but Time+Space and Sweetwater both have it up for pre-order at the aforementioned price.
Superior Drummer 3 New Features
Superior Drummer 3: Introduction
via: Gearslutz