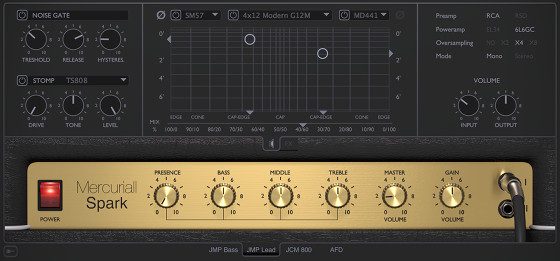 The guys from Mercuriall Audio Software have announced the upcoming release of a new guitar amp sim package called Spark that includes four amps modeled after popular Marshall amplifiers.
Spark also includes simulations of four cabinets with three different mics. And there are four overdrive/tubescreamer pedals and some effects included as well.
Spark is expected to be released later this year. It will be available in VST, AU, and AAX formats in 32 and 64 bit.
There's no word yet on pricing, but I would expect it to be pretty expensive.
Mercuriall's other amp sim, the Tube Amp Ultra 530, which is based on the ENGL E530, sells for $59, and that's just for one amp, although it does sound really good.
Granted it has 8 cabinets but that's still pretty pricey for a single amp sim considering other brands on the market, like Thermionik where you can get 5 amps for $35 (but with no cabinets or fancy graphics).
Spark includes four amps and cabinets, plus effects and pedals, so I wouldn't expect it to sell for less than $129, which puts it up near Amplitube 4 territory. I wonder if there will be a free version with limited features like the free version of the Tube Amp U530.
Below is the list of gear included in Spark. Check out the Mercuriall website for more info when it becomes available and for free gear, like their new tubescreamer pedal:
Amp section:
Based on Marshall® AFD (four channels)
Based on Marshall® JCM 800 (two channels)
Based on Marshall® JMP Super Lead (two channels) with Master Mod
Based on Marshall® JMP Super Bass (two channels) with Master Mod
Tubes: 12AX7 RCA, 12AX7 RSD; 6L6GC, EL34
Cab section:
Based on Bogner® Uberkab 412 – 4×12 Celestion® G12T-75
Based on Bogner® Uberkab 412 – 4×12 Celestion® V30s
Based on Marshall® 1960B – 4×12 Greenback
Based on Marshall® 1960B – 4×12 JBL® K120 (vintage)
Microphones: Shure® SM57, Sennheiser® MD441, Royer® R121
Pedals and FX section:
Noise Gate
Overdrive based on Ibanez® TS-808
Overdrive based on Ibanez® TS-808 Lower Drive Mod
Overdrive based on Ibanez® TS-7 Hot
Overdrive based MESA/BOOGIE® Grid Slammer
Stereo Chorus
Stereo Delay
Stereo Reverb
Additional settings:
Oversampling: no, x2, x4, x8
Samplerate: 44.1, 48, 88.2, 96