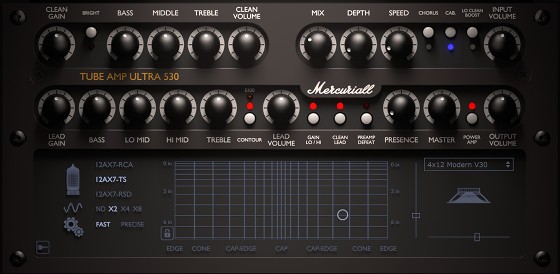 A couple months ago Mercuriall Audio released a new amp sim called the Tube Amp Ultra 530. It's modeled after the Engl E530 preamp, and it adds some extra features not available on the real thing.
There's a free version of the Tube Amp Ultra 530 and a paid version. The free version has limited features but it's still very usable. The paid version sells for $59.
The plugin is available in VST and AU formats, and it comes in 64-bit.
I finally got around to testing the free version of the U530 today and was very impressed with the sound. In fact it's one of the best-sounding Engl amp sims that I've tested, and I've tried several.
The free version doesn't let you adjust any of the dials except the volume knobs. It's also limited to just one tube choice and one cabinet model, and it's set at the lowest sample rate and oversampling settings.
Still, it sounds surprisingly good at the default settings, especially for high gain. And you can always use EQ plugins and other pedals like the TSE 808 tubescreamer to change the sound from the default settings.
While the free version is limited to one cabinet choice, it still lets you move the mic position around to customize tone. You can also turn the cabinet section off it you want to use other cabinet IRs with a third-party plugin like NadIR.
You can also use the buttons to change channels and turn on and off gain with the free version.
The paid version adds eight additional cabinet choices, two more tube choices, and boosts sample rate and oversampling settings, among other things.
Below is an example of the kind of sound you can expect to get with the Mercuriall Tube Amp U530. Mercuriall Audio also has some other free stuff on their website, including some other preamps and cabinets.
Mercuriall U530 Metal Mix Demo