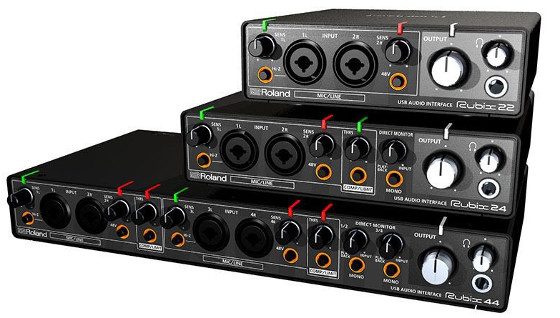 Yesterday Roland announced the upcoming release of a new line of inexpensive USB audio interfaces for PC, Mac, and iPads.
The new interfaces are called Rubix and there are three difference models, the Rubix 22, Rubix 24 and Rubix 44.
The model numbers indicate the ins and outs, so the 22 is a 2×2 interface, the 24 is 2×4 interface and the 44 is a 4×4 interface.
The Rubix series appears to be Roland's answer to the popular Focusrite Scarlett interfaces.
They haven't announced the pricing yet but I would expect them to cost about the same as equivalent models, so that most likely puts the Roland Rubix 22 at around $150 USD.
Hopefully these new Rubix interfaces will have similar low latency as the Focusrite Scarletts.
I've heard a lot of good things about the drivers and latency when it comes to the Roland QuadCapture, their current 4×4 USB audio interface, but there are more complaints when it comes to the Roland Duo-Capture, which seems to use different drivers than the QuadCapture for some reason. Hopefully these new models take after the QuadCapture rather than the Duo-Capture.
As far as specs, the new Rubix interfaces feature low noise mic preamps and support audio up to 24-bit/192kHz. All three models have XLR combo jacks with Hi-Z inputs for guitars, MIDI ports are included, there's a phantom power switch, and headphone jack with independent volume dial.
The Rubix 24 and 44 add a compressor and limiter to the hardware. Check the Roland website for more details regarding the new Rubix audio interfaces.
Roland Rubix USB Audio Interface