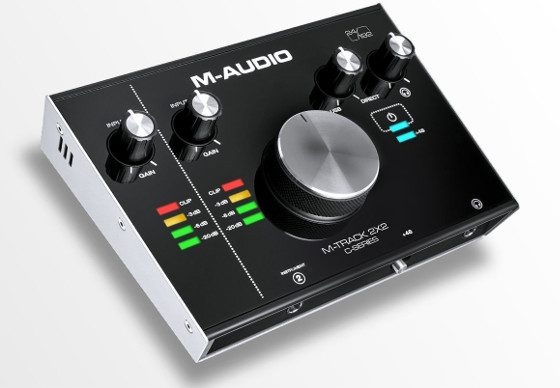 A couple of new entry-level USB audio interfaces have recently been released from M-Audio called the M-Track 2X2 C-Series.
They have one DI input for connecting guitars and other instruments, along with a combo input for mic/line, a direct monitor knob, a phantom power switch, headphone jack, and balanced outputs. Plus they sport a metal chassis and support up to 24-bit/192kHz audio recordings.
C-series stands for USB-C support but they also work with regular USB ports.
There are two versions of the M-Track 2X2, one without MIDI connections for $99 and one with MIDI for $149.
They come with a healthy dose of free software as well, including Cubase LE, the AIR Creative FX Collection with 20 plugin effects, and the AIR Strike, Xpand!2 and Mini Grand virtual instrument plugins.
The M-Track C-Series are nice-looking audio interfaces for the price, and have a good amount of features and software.
Of course it all comes down to the sound and performance, and how well the drivers work and how low the latency is.
If anyone reading this gets a chance to test out an M-Audio M-Track let us know what you think of it in the comments section.
Here's a video below from Sweetwater showing the new M-Track audio interface. It's quite a bit larger than the pictures indicate. In fact it's downright huge compared to the Scarlett 2i2 and Audient iD4.
M-Audio M-Track 2X2 Interface Overview