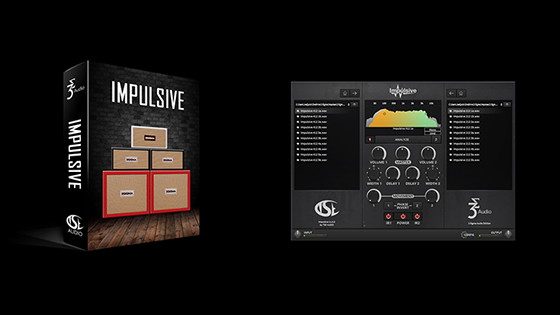 The guys from 3 Sigma Audio and TSE Audio have teamed up to release a new impulse response loader called Impulsive.
It's designed for loading acoustic impulses and guitar cabinet impulses when using amp sims.
Impulsive is based on the cabinet section of the TSE-X50 amp sim plugin.
I'm a big fan of the TSE-X50 and its IR loader and included impulse responses.
In fact I use the X50 IR loader for everything because I like it the best. But if you don't want to buy the X50 and just need an IR loader, Impulsive is worth checking out.
It's a zero-latency dual IR loader with high and low pass filters, adjustable IR lengths, and a number of level and phase controls.
Impulsive comes with a selection of three custom cabinets from 3 Sigma Audio. More IRs can be purchased from them, of course, and it can load 3rd-party impulses as well.
The Impulsive plugin sells for $20 and comes in AAX, AU, and VST formats for Mac and PC, both 32 and 64 bit.
Below are a couple of video demos. The first video explains how to use the plugin and how everything works, and the second video is a demo of some of the included IRs.
The plugin demo starts at 4:05 so that's where I set this video to start:
3 Sigma Audio Impulsive Walkthrough
3 Sigma Audio Impulsive Demo