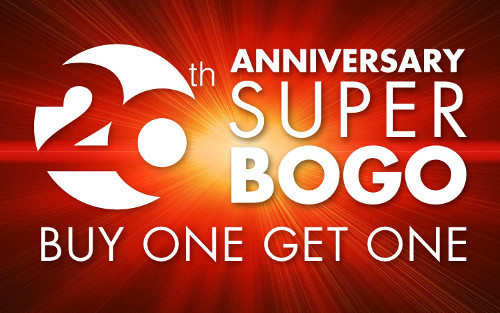 The people from IK Multimedia's marketing department have come up with yet another interesting promotion to add to their seemingly endless list of new deals.
If you've been waiting to buy a particular piece of IK's software or hardware, especially some of the more expensive stuff, now would be a good time to pull the trigger.
From now through August 31st, IK is giving away a free software download of equal value when you purchase and register any IK hardware or software product.
So basically you can buy anything from IK and get software of your choice of equal or lesser value for free.
You can see a list of software available for free after purchase from the IK Super BOGO deal page.
Through July the offer also extends to the iRig interfaces deal where you can get AmpliTube 4 Deluxe for Free with the purchase of a certain iRigs. Except the BOGO deal just lets you swap out the Amplitube Deluxe software for something else if you want, but only for the value of the interface and not the $300 value of AD (bummer).
There's also another IK freebie deal ongoing through July 7th where you can download the full version of SampleTank for iOS for free, which regularly sells for $20.
via: IK Super BOGO deal