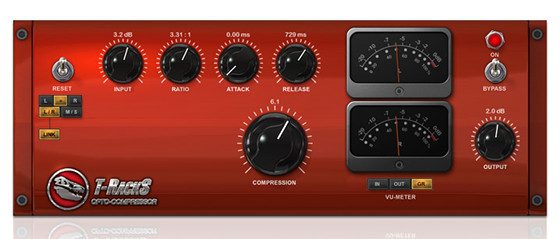 IK Multimedia is giving away a paid plugin for free this week as part of a promotion to get people to install their T-RackS Custom Shop, which comes with some other free plugins as well.
The promotional freebie is the T-RackS Opto Compressor. It normally sells for $/€80 so being able to get it for free is pretty sweet.
It's only free for one week so get it before it's too late!
To get the free plugin you have to download and install the T-RackS Custom Shop from IK.
If you already have the Custom Shop installed on your computer, all you have to do is open up the T-RackS store and it will notify you of the free plugin, at which point you just have to hit "Restore My Gear" from the Gear menu to get the Opto Compressor.
The offer expires on February 16th. Last month IK gave away the British Invasion Bundle for Amplitube so the freebies just keep on coming. Thanks IK!
Here's a bit of info about the Opto Compressor from the description:
Optical compression has a special sonic character that audiophiles can truly appreciate. This analog-modeled module faithfully recreates that particular (and extremely musical) "movement" that characterizes only the best opto compressors. An important characteristic of optical compression is the total absence of distortion and coloration during gain reduction, and you can expect the same character and performance from this digital recreation.