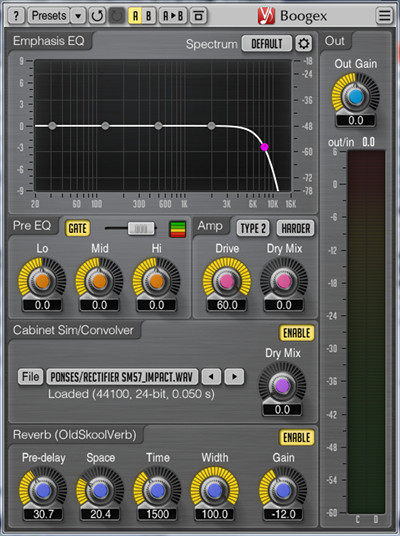 Today Voxengo announced the release of an updated version of their free Boogex amp sim plugin, which includes a cabinet simulator and built-in reverb as well.
The update version 2.3 for the Boogex plugin adds a gate module, bypass switch, and a new "Type 2" amplifier that features a softer valve-modeled sound.
The Boogex amp plugin is available to download for free from the Voxengo website.
The Boogex plugin works with Mac and PC computers and it comes in VST, AU, VST3, and AAX formats, with options for 32 and 64 bit.
The webpage also includes a link to a website with some free impulse responses for the cabinet IR loader, which supports loading other 3rd-party cabinet IRs too.
Voxengo claims the Boogex can be used for everything from heavy distortion to saturated jazzy tones.
The Boogex plugin also includes a built-in reverb module based on Voxengo's OldSkoolVerb plugin. Plus there's a spectrum analyzer too.
One downside is that it only works in mono, which is rather unusual for an amp sim plugin, but the CPU usage is low.
I gave the Boogex plugin a brief test drive and it sounds surprisingly good for being free. In fact I'd consider it one of the better free amp sims currently available, especially when using 3rd-party IRs and with the free Guitar Conditioner plugin placed in front of it. There are quite a few included IRs, and I tried a Mesa IR from the referenced website and it sounded better but still not as good as the ones in TSE X50.