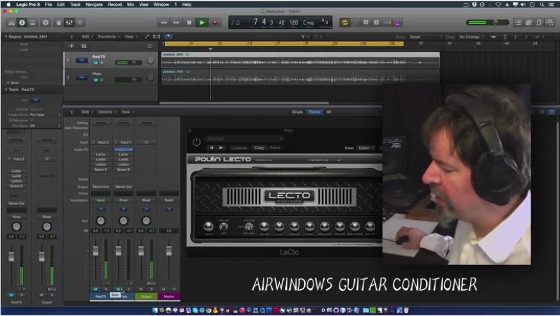 I came across an interesting free plugin that was posted over at KVR Audio yesterday called Guitar Conditioner by Airwindows.
It's basically a tube screamer pedal replacement. It does the same kind of thing but it's not another tube screamer clone; it has it's own kind of sound instead of being modeled after specific hardware.
The plugin works with Mac and PC and it comes in AU and VST formats, with options for both 32 and 64 bit.
At first I thought the plugin didn't work because nothing happens when I try to view the plugin in Ableton Live—it has no UI. But it turns out it doesn't need one.
It's literally a zero knob plugin, showing all those complicated one knob plugins where to shove it.
I added the Guitar Conditioner plugin in front of Kazrog's dual rectifier amp sim and did some jamming and it definitely adds a new level of clarity to the tone. It tightens up the bottom end and adds more definition to the top end compared to a couple other tube screamer pedals that I frequently use.
So far I really like it, and it's very easy on CPU. It's definitely worth downloading and trying out if you like using a tube screamer or overdrive pedal in front of an amp to tighten up the sound (who doesn't?).
Here's more about it from the developer:
This is not a Tube Screamer plugin at all. It's an alternate tone for doing similar things but with more sonority, focus and impact. It's intended for Djent style sounds and people who can play much, much better and more aggressively than me. 😀
The Guitar Conditioner plugin is free to download and use, no email signup required or anything. Instead you can support the developer through Patreon.
Guitar Conditioner Video Demo