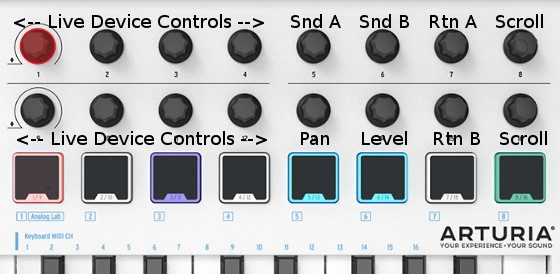 Last year I bought an Arturia MiniLab MKII and it has turned out to be a great mini MIDI keyboard controller for the price.
The keys are a lot nicer than the Alesis MIDI keyboards I tried previously, and it has a lot more knobs and pads to work with.
I especially like the integration with Ableton Live.
The MiniLab MKII has eight memory banks and number 8 is dedicated to working with Ableton Live and is setup to automatically control certain aspects of Live.
The picture at the top of this post shows what the knobs do when using this setting, which works with Live 9.7.2 and up, including Live 10.
First you need to go open Live's Preferences menu and go to Link/MIDI and select the MiniLab MKII from the list for the control surface and input and output settings, with track and remote turned on.
Then you just have to hit Shift+8 on the controller to switch to the special Live setting. The only annoying thing is you have to do that every single time you open Live because it always opens memory 1 by default.
After switching to memory bank 8, you can use the MiniLab's pads to play and record clips in session view, and they light up with different colors depending on the state of the clip.
There's green for play, red for recording, and yellow means the track is stopped. If you hit a pad to record, hit it again to stop recording, and it will continue to play.
You can use the two knobs to the far right to scroll through scenes and tracks to control which ones you are playing and recording to.
The only thing I don't like is there's no dedicated stop button so I usually map one of the knobs (the two furthest to the left also act as buttons) to Live's stop button.
The eight knobs to the left automatically map to the first eight parameters of whatever plugin you have selected, which is pretty handy, but it's usually a guessing game as to what knob controls what parameter since they rarely layout the same way. Oftentimes it's easier to open Live's parameter view by clicking the middle arrow button on the plugin's title bar to see the parameters laid out in the first two columns that correspond with the knobs.
The nice thing with having additional memory banks is you can set them up to correspond with specific plugins. Memory 1 is dedicated to Arturia's Analog Lab software, and with 8 setup for Ableton Live, you can still setup 6 custom templates to switch to on the fly (you can save additional templates to load in later as well with MiniLab's MIDI Control Center software).