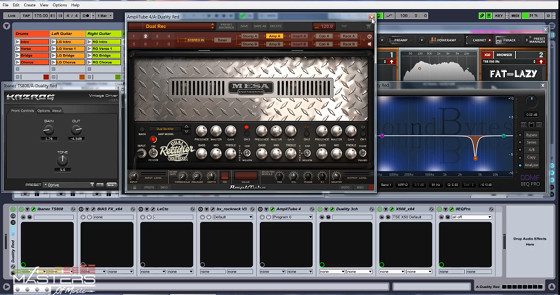 Today I put together a video comparing the 3 channel Mesa Boogie dual rectifier amp sims from Amplitube and Kazrog to try and determined which one I like better.
I've tried a bunch of different amp sims over the past couple years and I really dig the tone of Mesa rectifiers for the style of thrash metal that I like to play.
The Amplitube version is the only officially licensed Mesa Boogie dual rectifier amp sim.
They also have a triple rectifier, which is briefly demoed in the video just for the hell of it.
Kazrog offers two Thermionik dual rectifier amp sims, a 2 channel and a 3 channel.
For this comparison I'm going to stick with the 3 channel version, the Duality 3ch.
The Amplitube version has nice graphics that look like a real dual rectifier, but I find the basic interface of Thermionik amp sims to be more functional—knobs are easier to fine tune, the dials are easier to see.
I really like how the volume levels are consistent on Kazrog's dual rectifier sim between the different modes for each channel, whereas the volume levels are vastly different between every channel and mode on the Amplitube version so you have to constantly tweak the dials.
Probably the biggest difference between them is the Amplitube version has less gain. You have to crank it to 10 to get a strong distorted tone, and even then it feels a bit neutered at times.
The Kazrog version has more balls, especially with depth turned on, and that makes it's funner to jam with, but with drums and bass mixed in they both can sound similar.
With Amplitube 4 you have the option to customize each individual speaker and mic used, so that opens up a lot more ways to customize the tone. You can also use effect inserts and customize the signal chain more easily with everything built into a single interface.
For this demo I'm using IRs from the TSE-X50 sim because I like how they sound and some common brands are included that people frequently use (Rosen Digital, 3 Sigma Audio, Kalthallen).
The song used in the demo is still rough so you can hear exactly what the amp sims sound like. I'm not using any additional plugins other than an 808 tube screamer in front of each amp (Kazrog's Vintage Driver) and the only EQ is a 6db cut at 4k to get rid of that annoying buzzing sound that plagues most cabinet IRs (the EQ is free, btw, and it's quite nice).
AmpliTube vs Thermionik Dual Rectifiers