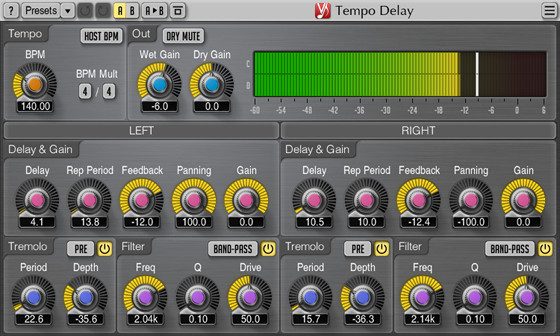 Last month Voxengo released a free amp sim plugin called Boogex that turned out to be pretty cool, and now they've just released a new free delay and tremolo plugin as well.
The plugin is called Voxengo Tempo Delay, and it's available in VST, AU, VST3 and AAX formats for Mac and Windows, in 32 and 64 bit.
What's nice about Voxengo's free plugins is you just have to download and install them, no account or email signup required.
The thing that separates the Voxengo Tempo Delay from some of the other free delay plugins out there is the fact that it is stereo and supports setting the parameters for each left and right channel independently.
It also has a tremolo section and a filter section. Like Voxengo's other plugins there's a preset manager built-in with some presets included as well.
More details from the description:
Instead of a single "delay length" control this plug-in features separate "delay", "repetition period" and "delay panning" controls which allow you to create an evenly sounding "ping-pong" stereo echoes.