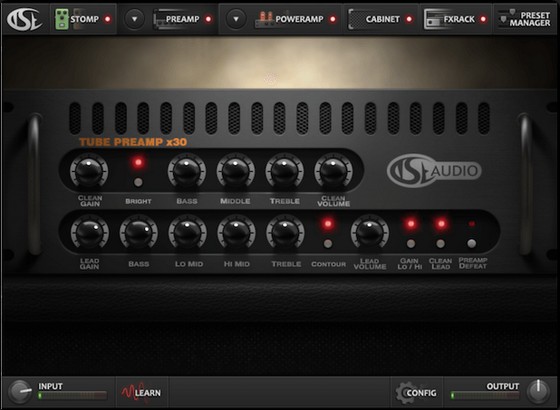 Last month TSE Audio released a major update for their TSE X50 plugin, a guitar amp simulator based on the Peavey 5150 amp that is favored by many rock and metal musicians.
The new updated 2.4 version includes some enhancements for the TSE X50 amp, and now they've added a second preamp to the package, the TSE X30, which is designed to simulate the Engl E530.
According to the manual, both amps have been completely remodeled using new advanced electrical simulation methods to achieve a more realistic sound.
TSE Audio also added a handy preset manager to the UI to make working with presets easier so you can save tone and specific settings, and it lets you load only the modules you need.
Another new feature with version 2.4 is the option to enable multi-core stereo processing, which allows you to share the processing load over multiple processors when running in stereo.
X50 2.4 comes with some new IR's pre-loaded as well, some Fat Lazy Cabs. Checkout this Impulse Response Guide for links to free download packs with thousands of free IR's.
The only downside with the update and addition of the X30 preamp is the fact that the price went up to $69.99. You can download the demo version from TSE Audio and try all the features out for free before buying, sound just cuts out occasionally and you can't save any settings.
I tried the demo version of 2.3 for awhile. Here's an article with some extra information and videos: TSE X50 Amp Simulator Tone Settings Examples. I like the TSE X50 plugin a lot but I ended buying Recabinet 4 instead while it was on sale. But now that I've tried the 2.4 demo of TSE X50 I kind of want it now too. Both are really good at simulating the Peavey 5150/6505, and Recabinet has other amps as well.
Chris Tranmer from Chimera Audio uploaded the YouTube video below with a demo of the new TSE X30 preamp that's now included in the 2.4 version of the X50 pack. You can download the presets used in this video from the description page on YouTube.
TSE X30 Demo – METAL (TSE X50 v2.4 update)