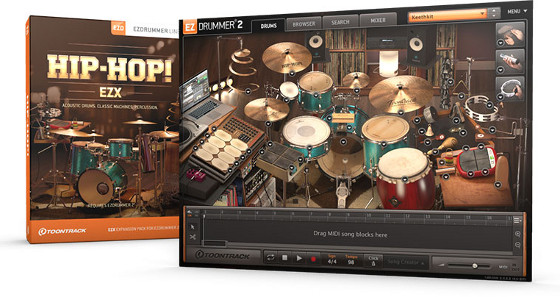 Toontrack announced the release of a new hip-hop expansion pack for EZdrummer 2 today. The new collection is called Hip-Hop! EZX.
Yesterday I posted about new bundle packages that Toontrack has started offering with their EZdrummer 2 software. They've also created a new hip-hop edition that comes with EZdrummer 2, the Hip-Hop! EZX, and their Jazz EZX.
The bundle packages are a really good value if you don't own EZdrummer 2 software.
For those that already have EZdrummer 2, the Hip-Hop! EZX sells by itself for the usual price of an expansion set. MSRP is $89 at Toontrack but they usually go for $79 from retailers.
The new hip-hop collection was produced by Mattias Eklund and Alexander Juneblad. The sound is described as being firmly rooted in acoustic drums but it has drum machine sounds, orchestral percussion, and other elements mixed in to create hybrid kits.
The Hip-Hop! EZX includes 22 mix-ready kit presets, 16 acoustic snares, 18 acoustic kick drums, and hundreds of acoustic and electronic percussion sounds. There are custom MIDI drum grooves for each kit preset, along with snaps, claps, machines, orchestral instruments, acoustic drums, grooves, and more.
Here are a couple of YouTube videos to get an idea of the sound and features of the new Hip-Hop! EZX.
Hip-Hop! EZX Expansion for EZdrummer 2
Hip-Hop! EZX Walkthrough