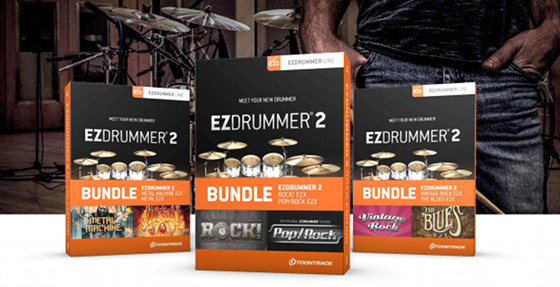 Toontrack recently released four new bundle packages for their popular EZdrummer 2 software, which is one of the best and most realistic-sounding virtual drum packages available.
The base software is pretty good but it's the expansion packs that really make EZdrummer stand out and sound great.
That's what makes these new bundle packages such a good deal.
Each bundle comes with the full version of EZdrummer 2 and two expansion packs.
EZdrummer 2 normally sells for about $149 and each expansion pack is an extra $79. So altogether that's over $300 when purchased separately.
But with the bundle packages you can get all three for $249 from authorized Toontrack retailers. And sometimes you can get it for even less than that.
I was able to get the EZdrummer 2 Metal Edition for $225 total. That's what I offered to Pitbull Audio on eBay, which is 10% off, and they accepted. That's like getting an entire expansion set for free apposed to buying everything separately. I'm glad I came across the deal and wanted to share it here so other people can save some cash too.
These are the three new bundle packages and what each one comes with:
Rock Edition
The EZdrummer 2 Rock Edition comes with two EZX sound libraries, Rock! EZX and Pop/Rock EZX, for a total of 14 drum kits and an extensive collection of MIDI grooves. The expansion sets are produced by Neil Dorfsman (Dire Straits, Sting, Bruce Springsteen) with drums recorded in top studios in New York, Nashville, London and Stockholm.
Metal Edition
The EZdrummer 2 Metal Edition comes with the Metal Machine EZX and Metal! EZX expansion sets. It features 17 drum kits total, with 12 of them engineered and produced by Andy Sneap (Testament, Megadeth), Mark Lewis (Whitechapel, DevilDriver), Jason Suecof (Trivium, The Black Dahlia Murder) and Daniel Bergstrand (Meshuggah, In Flames).
Vintage Edition
The EZdrummer 2 Vintage Edition combines the Vintage Rock EZX and The Blue EZX together for a total of 8 drum kits and additional instruments. Includes drums recorded by Peter Henderson (Supertramp, Paul McCartney) and Chris Whitten (Dire Straits, The Waterboys).
Hip-Hop Edition
The latest addition to the EZdrummer 2 line of bundle packages, the Hip-Hop Edition combines the new Hip-Hop! EZX and Jazz EZX together for 6 acoustic drum kits and hundreds of additional instruments and dozens of mix-ready presets. The Hip-Hop package was produced by Mattias Eklund and Alexander Juneblad.
You can find more information about these bundles and drumming software on Toontrack's website: EZdrummer 2 Bundles.