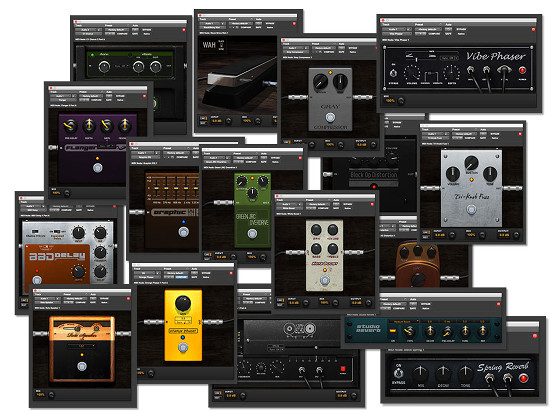 Avid recently started selling over a dozen different stompbox plugins for Pro Tools, with everything from distortion to reverb, delay, flanger and wah plugins.
Some of the pedals come free with certain Pro Tools plans, and Focusrite has the new Pro Tools First Creative Pack that comes with their Scarlett audio interfaces that includes several of the pedals.
I ended up with most of the stompbox plugins when Avid started offering them with Pro Tools 12, and some of the pedals are surprisingly good.
At $5 a pop they are a much better deal than some of the other stompbox plugins out there, like Plugin Alliance's ridiculously overpriced $50 pedals.
I've been trying out the Green JRC Overdrive pedal in front of high gain amps like the Mesa dual rectifier and I really like it. It even makes the below average Eleven Lite amps sound halfway decent. The pedal is based on the original Ibanez TS-808 tube screamer pedal. It has a nice tight sound and it isn't as noisy as some of the other tube screamer pedals that I've tried—it's clearer and more natural-sounding.
The list of available stompbox pedal plugins include:
BBD Delay
Black Op Distortion
Black Shiny Wah
Black Spring
C1 Chorus
DC Distortion
Flanger
Gray Compressor
Green JRC Overdrive
Orange Phaser
Roto Speaker
Studio Reverb
Tri-Knob Fuzz
Vibe Phaser
White Boost
The stomp box pedals can be used with Pro Tools First as well, the free version of Pro Tools. Except you can't load third-party amp sims with the free version, and for some stupid reason the free version doesn't come with Eleven Lite, Avid's trimmed-down amp sim with 2 amps and cabinets, so unfortunately the pedals aren't as useful with the free version unless you fork over $500 for Avid's Eleven MKII amp sim package.
The folks from Pro Tools Expert have free videos demoing some of the plugins to show how they sound and work.