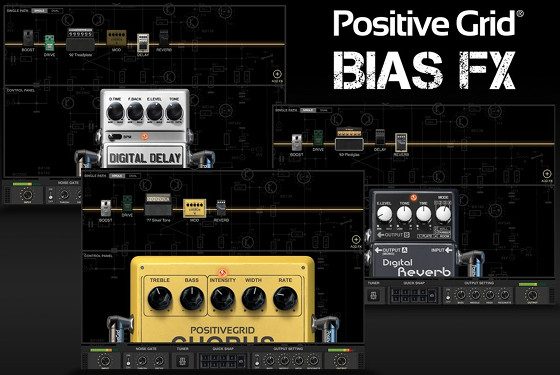 Focusrite has teamed up with Positive Grid to offer a free version of the BIAS FX guitar effects processor as part of the Focusrite Plugin Collective.
The BIAS FX LE plugin is free to download for Focusrite interface owners (or anyone who registers an account with them, it seems) throughout the month of November.
Just sign in to your Focusrite account for the install and authorization instructions.
Focusrite has been doing this for a few months now where they join forces with different plugin developers to offer free plugins and special promotions for Focusrite customers each month.
It's good to see them offering a freebie for guitarists this time, especially since a lot of people buy their audio interfaces to record guitars.
The free BIAS FX LE amp sim pack is a trimmed-down version of the BIAS FX plugin. It comes with 3 amps and 6 effect pedals, covering everything from clean tones to high gain.
Update: After testing this plugin for a couple of hours I've come to the conclusion that it's pretty much worthless. It sounds good but it's barely more than a demo. I hate to complain about something that's free but they crippled this plugin so much that it's not worth using. The main problem is that it always resets to the default settings whenever reopening a song or even just when trying to move the plugin to a different track. I think the free V3 Player from Brainworx is more useful than this, even with all the parameters locked.
Here's more about the plugin from the description:
Exclusively designed in partnership with Focusrite, BIAS FX LE gives you a taste of the fully fledged BIAS FX Pro. It includes 3 amps + 6 effects – the insanely great sounding '77 Silvertone (Clean), '69 Plexiglas (Crunch), and '92 Treadplate (High Gain) amplifiers. You also get the best pedals to expand your arsenal: a Treble Boost, 6 band EQ, a 808 OD stomp box, a Chorus, plus digital delay and reverb pedals.